Red Demon wrestlers remain focused on constant improvement
By: John Zetmeir
For each of the past five years, the Dodge City High School boys wrestling team has had an individual win a state championship. While there has been individual success, the team continues to eye the ultimate team prize.
Last season the Red Demons got fifth as a team with just six wrestlers at the 6A state tournament. In 2015, Dodge City earned a third place team trophy. While the Red Demon do enter the season with confidence, they do not want to get caught looking too far ahead.
"In order to be a successful team, you can't get lost in the end goal because you forget about the little things that it takes to get there and that's what we did last year," Dodge City head coach Lars Lueders said. "This year we're really just going to be taking it one day at a time and really preaching to get better through winning and not talk about the end goal that much. I think in their minds, our kids think they can be state champs but we're not really going to talk about it."
The Red Demons will be led by a strong senior class that includes three former state place winners.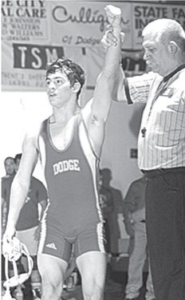 Last year, Devon Plaza extended the Red Demons streak to five years with an individual state champion by winning the 6A 132-pound crown. Tylor Garcia also made it to the state championship match last season but came up just short against Garden City's Michael Prieto in a 1-0 decision.
After missing his junior year due to an injury, senior Dylan Servis returns to the Red Demon lineup. Servis is a two-time Fargo All-American and placed third at the 6A state tournament as a sophomore.
"It's an amazing feeling," Servis said. "After missing all of last season and working back into it, I can appreciate things that I really hadn't thought about."
Other members of the senior class for Dodge City include Devon Griego, Kenedy Escobedo and Carlos Rojas. Griego has fallen just one match short of qualifying for the state tournament in each of his first three years.
Rojas and Escobedo have both been starters for the Red Demons as well. Ansony Quezada and Marcos Fisher are also projected to be in the Red Demons lineup this season.
According to the Kansas Wrestling Coaches Association, the Red Demons are ranked fourth in class 6A. Plaza, Garcia, Servis and sophomore Couy Weil are all ranked in their respective weight classes to start the season.
"It's more about the program that we've built and the culture," Lueders said about the continuous progress of the wrestling team. "It's a more popular sport in the school. This is what we've been trying to build and we still have a ways to go."
The Red Demon wrestlers will begin their season on Dec. 1 when they travel to Maize for a dual.