Demon wrestlers handle Hays
By: John Zetmeir
In their second Western Athletic Conference dual of the season, the Dodge City High School wrestling team cruised to a 40-21 win over Hays.
The Indians won five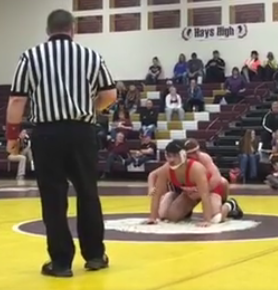 matches total but two of those five wins came by forfeit. Tuesday's dual was the first part in what will be a busy week for the Red Demons.
"We really preached consistency this week," Dodge City head coach Lars Lueders said. "I feel like they stepped up to the challenge on the first event and really grinding out matches and finished strong. Overall with how we wrestled, I was pleased."
With a tough tournament ahead of them in Newton this weekend and a dual with Garden City scheduled for next Tuesday, a portion of Dodge City's lineup moved up a weight class against Hays.
Lueders credited freshman Garrett Edwards for allowing the Red Demons to make the change comfortably. Edwards won his first varsity dual match of the season by major decision over Hays' Tadin Finn.
"That was part of the reason that we were able to bump people up," Lueders said. "We are confident that he can go in there and wrestle hard, do what he needs to do for the team and we were really pleased with how he wrestled."
Dodge City is taking a state tournament mindset to Newton this weekend as the Red Demons prepare for one of the toughest tournaments in the state.
"Newton is a lot like the state tournament," Lueders said. "This will give us a preview of what the state tournament will look like and most importantly will help our kids prepare for the state tournament and stay calm in the postseason environment."
In this week's Kansas Wrestling Coaches Association rankings, Dodge City moved up to the No. 4 team in 6A.
Six Red Demons found themselves ranked in their respective weight class. Senior Devon Plaza currently sits in the top spot at 132-pounds while Tyler Garcia (145) and Dylan Servis (182) are ranked second. Couy Weil (113), Ansony Quezada (195) and Marcos Fisher (220) round out the ranked Red Demons.
HAYS DUAL RESULTS
106- Karlin (Hays) win by forfeit
113 – Weil (DC) maj. dec. over Bender (Hays)
120 – Escobedo (DC) fall over Hale (Hays)
126 – Edwards (DC) maj. dec. over Flinn (Hays)
132 – Griego (DC) maj. dec. over Vajnar (Hays)
138 – Plaza (DC) maj. dec. over Casper (Hays)
145 – Meyers (Hays) 6-0 dec. over Clark (DC)
152 – Garcia (DC) 5-2 dec. over Vajnar (Hays)
160 – Dandurand (Hays) 7-4 dec. over Moon (DC)
170 – Voth (Hays) 7-2 dec. over Pipenger (DC)
182 – Servis (DC) fall over Springer (Hays)
195 – Quezada (DC) 7-5 dec. over Dorzweiler (Hays)
220- Fisher (DC) fall over Vanpelt (Hays)
285 – Schultz (Hays) win by forfeit