Ulysses blanks Demons
By: John Zetmeir
The Dodge City High School volleyball team fell to Ulysses in straight sets on Monday night(18-25, 19-25, 9-25).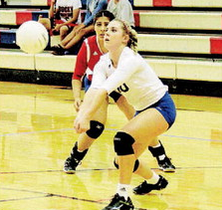 Even though the Red Demons found themselves on the losing side, head coach Amy Fleener continues to see progress from her young team that is built primarily of sophomores.
"We're growing up a little bit and doing a lot of good things," Fleener said. "We just can't right the ship when we've got a ball out of system. We don't have the leadership to get us back on the right track but we are doing some good things."
In the first two sets, the Red Demons found a way to battle back after falling into early trouble. Early in the first set, Dodge City trailed 15-11 before cutting Ulysses' lead to 17-15.
The Red Demons trailed 3-7 early and 9-12 midway through the second set but were able to tie the game before ultimately falling 19-25. Ulysses started off the third set on a 13-1 run that Dodge City was unable to recover from.
"We just got inside our head," Fleener said about the third set. "(Ulysses) got on a little bit of a roll and we got our heads dragging and it's just too hard of a sport to play with your head down." Dodge City will have a whole week off before returning to the Dodge City High School field house to host Western Athletic Conference opponents Garden City and Liberal. While Fleener has been pleased with her team's progress, leadership is still an area where she has seen a void.
"System wise and skill wise I think we can play with most opponents but I need a leader," Fleener said. "I need someone who is going to step in and keep us calm and not let the opponent run five or six points off of us."