By John Zetmeir
Dodge City Daily Globe
The Dodge City High School track and field squads will take the first step in discovering their identities on Friday when the varsity travels to Ulysses and the junior varsity heads to Kinsley.
Friday's meets will give head coach Dave Foster his first look at how many of his newcomers will handle their first bit of competition this season.
"We want to see where kids are a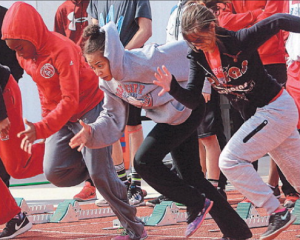 t and see if we've got them placed in the right position and then we'll start shuffling them from there," Foster said. "Everything is about the journey each of these kids is on, finding that niche and finding the best area where they are suited to help us as a team."
There is plenty of optimism for the Red Demons girls going into the new year. Last season, the Dodge City girls scored 30 points at the 6A state track meet to earn 10th place amongst 29 teams.
Seniors Brekk Flax and Jessica Harshberger enter their final seasons following stellar performances at state as juniors. Flax took third place in the girls 100 meter dash and fifth in the 200 meter dash.
Harshberger earned a bronze medal in the girls 800 meter run and is one of three returners from the Red Demon girls 4×800 meter group that finished in fifth place at state. Seniors Jasmine Duarte and Mariela Aldaba are the other returners from the 4×800 team.
Junior Tia Bradshaw also medled for Dodge City last year at state. As a sophomore, Bradshaw earned a bronze medal in the girls triple jump and took fifth in the long jump.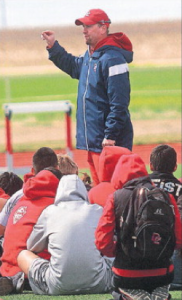 "On the girls side, we've got almost everybody back and then we have some newcomers that we are excited about," Foster said. "Kids that either did well in cross country, or really shined in volleyball and basketball. There are some kids that we're thinking have really proven themselves in practice and we think we can really get a bunch of additional points from some of those newcomers."
While Dodge City is expecting to field a seasoned girl's squad, there are a few more unknowns on the boy's side of the track entering the new season.
"We don't have a lot of depth as far as guys that are proven at scoring points," Foster said.
Foster does have optimism for the distance events since they will be made up of members of the boys cross country team that won the Western Athletic Conference title last fall. Juniors Marcelo Cruz and Jason Luft will be two Red Demons that will be looked to earn points for Dodge City.
After a disappointing finish to cross country season, Cruz is eager to begin competing again.
"(Cross country) and (track and field) are two different sports but the way I ended cross country was not good," Cruz said. "It gives me motivation to train harder and become a better athlete."
Senior Tyler Trent was the Red Demon boys best finisher at the state last season. Trent took sixth place in the boys long jump. "In the sprint events we've got a few kids back that weren't necessarily points scorers a year ago that can be now I think," Foster said. "That will be a big question mark and the throws are a big question mark since we graduated some kids there. We'll see where the guys are at."
Both meets are scheduled to begin at 3 p.m. on Friday.