Dodge girls win defensive battle despite bad weather
By: Timothy Everson
Fighting through harsh winds and cold rain, the Dodge City High School girls soccer team opened their season by holding on in a defensive battle, defeating Liberal 1-0.
"Starting 1-0 is a good feeling," head coach Saul Hernandez said. "We had to work for this win, it was difficult."
The Lady Demon's played into the strong southern wind during the first half as 35 minutes clicked by on the game clock before either team scored.
With around fiv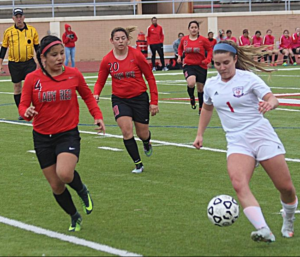 e minutes left in the first half, Liberal had their best chance in the entire match to score but a short kick hit the top crossbar and bounced away from the goal into Dodge City possession.
The Lady Demon's worked their way down the field and had a shot that was almost cleared by Liberal but instead the ball bounced off of senior forward Mariyah Reyes and bounced into the goal to give DodgeCitytheleadwith3:40 remaining in the first half.
"Right before that play they hit the post and
instead of putting our heads down we we countered and got the goal," Hernandez said. "We could've had another one before the end of the half but a win's a win."
In the second half,the Lady Demon had several good looks at the goal but couldn't convert while defensively Dodge City locked in the after the first 10 minutes and suffocated the Liberal offense.
"We started off a little shaky defensively in the second half," Hernandez said. "They had a couple of corners but once we settled I don't think our goal keep touched the ball in the final 30 minutes. "
The defensive intensity pleased Hernandez especially since it took a little longer for the Lady Demons to get their first shutout last season.
"Last year it took us five games to get a shutout,"Hernandez said. "So starting off with a shutout is very nice. Getting those shutouts make wins come much easier."