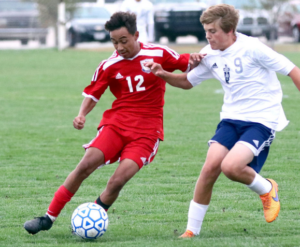 Demons top TMP 7-0
By: John Zetmeir
The Dodge City High School boys soccer team finished their week with a 7-0 win at Thomas More Prep on Thursday afternoon.
The Red Demons scored three goals in the first half and four more in the second half. Freshman Diego Olivares led the team with three goals. Juniors Alejandro Rojas and Rodrigo Angulo, sophomore Josue Castillo and senior Tony De La Torre also got on the scoresheet.
In their two wins this week, 10 different Red Demons scored a combined 17 goals. Dodge City (13-0, 6-0) will host Great Bend on Tuesday to begin a a three-game home stand to finish the regular season. A win on Tuesday would give the Red Demons their second consecutive Western Athletic Conference championship.