Red Demons off to 4-0 start, travel to Liberal for WAC opener
By: John Zetmeir
In last year's Titan Classic, the Dodge City High School boys soccer team lost their only game of the regular season on their way to a third place finish at the tournament in Wichita.
Over the weekend, the Red Demons returned to the Titan Classic where they passed two tough tests and took home the team title with a 3-2 win over Bishop Carroll.
Because inclement weather postponed their semifinal game against Kapaun Mt. Carmel to Friday, the Red Demons ended up making four trips to Wichita in six days. Head coach Saul Hernandez thought that the travel played a small role in the championship game despite his team coming out with a win.
"Even though we were up 3-0 against Bishop Carroll, I could see that the boys were tired from all of the trips but they were able to hold the last 10 minutes," Hernandez said. "It was an ugly win but sometimes you have to win and the boys did it."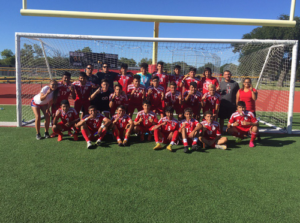 In the semifinal game against Kapaun, the Red Demons trailed 1-0 before senior Aries Yeverino tied the game in which the Red Demons eventually won in overtime. Yeverino also scored a goal against Bishop Carroll in the championship game. The senior is currently the team's third leading scorer this season with three goals in four games.
"(Yeverino) just seems to be in the right spots," Hernandez said. "He is doing his job and he's been scoring big goals for us."
Dodge City will begin the defense of last year's Western Athletic Conference championship when they travel to Liberal on Tuesday afternoon. Liberal's defense made it tough for Dodge City to find the back of the net in the two matches last fall. Dodge City beat the Redskins 1-0 in the season opener and 3-0 at Liberal a year ago.
While Hernandez is glad that his team is off to a 4-0 start, he wants to see his team improve defensively starting in Liberal on Tuesday.
"Defensively, we need to quit making little mistakes, we haven't had a shutout this year," Hernandez said. "That is something big for me, I like to have shutouts."
Dodge City tallied 14 shutouts and allowed just 11 goals in 21 games last season. Through their first four games, Dodge City has conceded five goals.
The Red Demons will begin their WAC season at 5:30 p.m. in Liberal.