After losing a heartbreaker to Blue Valley Northwest in the 6A state semifinals, the Dodge City boys soccer team had one more opportunity to end the season with a win.
In Saturday's consolation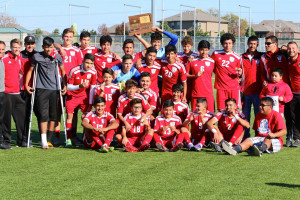 game the Red Demons beat last years state champions, Olathe East, 4-1 to earn the third place trophy. Their win on Saturday gave them a school record 19-wins and their first ever win in the state finals. In their previous two trips to state, the Demons finished in fourth place.
"It was the goal that I was looking for as a team," head coach Saul Hernandez said. "I played more guys who weren't able to play on Friday to get them more experience. Hopefully we make it back next year and those guys will have experience under their belt."

 After trailing 1-0, Dodge City came to life to score four goals in the final 26 minutes of the game to secure their first ever win at the state finals. It was sophomore Joshua Don Juan and senior Leo Lopez who split the four goals.
"I felt like they weren't having fun and were just a little too uptight," Hernandez said about the halftime adjustments. "I told them that we didn't have anything to lose and that we needed to just play more relaxed."

In Hernandez's first year as the Red Demons head coach, Dodge City (19-2) had their most successful season in school history. The team's two losses were to 5A state runner-up St. Thomas Aquinas and Blue Valley Northwest, the 6A state champion.
"It was a successful season," Hernandez said. "We didn't come back with the hardware that we wanted but the boys really did an excellent job handling the situations."
In WAC competition, the Red Demons outscored their opponents 40-5 on their way to a undefeated WAC title. In 21 games this year, Dodge City outscored their opponents 94-11 and finished with 14 shutouts.
By John Zetmeir
Dodge City Daily Globe