By John Zetmeir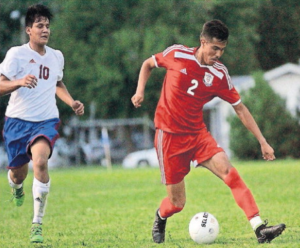 WICHITA – Before the Dodge City High School boys soccer team even began practicing this fall, head coach Saul Hernandez knew his players were focused coming into the season.
On Monday, the Red Demons' focus was evident in their 9-1 season-opening win over Wichita South.
Dodge City scored three quick goals early in the first half. After a goal from Wichita South cut the Red Demons lead to 3-1, junior Joshua Don Juan found the back of the net twice to give Dodge City a 5-1 halftime advantage.
'The kids were anxious to get on the field and play against another team,' Hernandez said. 'We scored in the first three minutes, we went up 3-0 early but after that we started getting sloppy. We got overconfident and gave up that one goal but that goal woke us up.'
The Red Demons' scoring barrage continued in the second half. Dodge City scored four more goals in the first 28 minutes of the second half before the game was ended in the 68th minute due to inclement weather.
Don Juan, who led the team with 21 goals a season ago,picked up right where he left off last season by scoring four goals on Monday. Fellow junior Mario Martinez added two goals.
'(Don Juan's) movement and ball control is at another level right now,' Hernandez said. 'It's the understanding between (Don Juan) and (Martinez). They already know where the other is going to be before they even get the ball.'
Aries Yeverino, Jose Ubanda and Diego Olivares were the other three goal scorers on Monday evening.
Dodge City will head back out to Wichita on Monday for the first round of the Titan Classic. Hernandez's squad will take on Wichita Northwest in the first round. The two teams met in last year's regional championship game when the Red Demons bested the Grizzlies 2-0.
Next Monday's game will be played on the same field that the Red Demons played on Monday afternoon.
'That gives us an advantage,' Hernandez said. 'We saw how the ball rolls and what adjustments we have to make on that field but we're expecting a tough game.'
Last fall, the Dodge City boys took third place at the Titan Classic. The second round loss to St. Thomas Aquinas was their only loss of the regular season.