Dodge City runners qualify for state
By: John Zetmeir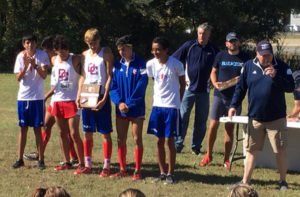 Both the Dodge City boys and girls cross country teams qualified from the 6A state meet at the regionals in Wichita on Saturday.
The Dodge City girls edged out Garden City by two points to finish third as a team. The difference between second place and fifth place was 3 points.
"We knew it would be close between four teams for the last two qualifying spots, but 3 points separating second from fifth was closer than I thought it would be," head coach Brian Lenz said. "This team has come a long way from the beginning of the season and we are looking forward to competing at Rim Rock."
Sophomore Ayanna Hensley was the top Red Demon finisher on the girls side. Hensley finished fifth with senior Coral Neave just behind her in seventh. Junior Luz Lopez and senior America Garcia also finished in the Top 20.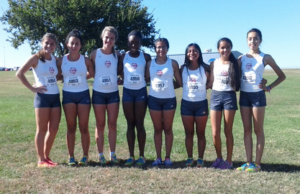 A week after beating Garden City for the Western Athletic Conference, the Red Demon boys were edged out by their conference rivals. The Buffaloes won the regional team title with 40 points, beating Dodge City by 1 point.
Garden City had the top three finishers individually. Dodge City had four runners finished in the Top 10. Senior Marcelo Cruz led the way for the Red Demons by finishing fourth. Fellow senior Alex Ultreras finished sixth, sophomore Javier Marquez finished eighth and senior Jason Luft rounded out the Top 10.
Both teams will compete at Rim Rock Farm in Lawrence this Saturday.
VOLLEYBALL
The Red Demon volleyball team's season came to an end over the weekend in Wichita with a 2-0 loss to Garden City in sub-state play. Dodge City finished the season with a 3-31 record.
"I knew we were in rebuilding mode this season," head coach Amy Fleener said. "New coach, new philosophy, new schematic system and trying to incorporate all of it with a very young team.
"I did not, however, think we would struggle quite as much as we did. We just didn't become consistent with our communication, skill execution and confidence this season."
Dodge City will return a majority of this year's team in 2017. This season's roster was constructed of mostly underclassmen, which included a large sophomore class. "I am resolute we will get there," Fleener said. "Practices up to the very last one Friday have been fantastic. The girls want
to learn and improve and practices have been high energy and competitive."
The Dodge City boys soccer team will begin their postseason journey on Tuesday evening when they host Wichita Southeast.
The Red Demons (16-0) were the only team in Kansas to finish the regular season with an undefeated record.
Action will begin at 6 p.m. at Memorial Stadium.
FOOTBALL
When the 6A Kansas football playoff bracket was released late Friday night, it was determined that the Red Demons will travel to Topeka for a match up with Washburn Rural.
Washburn Rural (5-3) and Dodge City were among four teams that finished the season with 5-3 records. The Red Demons finished last amongst those four teams in point differential.