UNDERCLASSMEN IMPACT
Sophomores solidify Demon defense
By: John Zetmeir
Through the first five games of the season, Dodge City High School's defense has kept them in position to be successful every time they take the field.
The Red Demons (3-2, 0-1) have allowed 20 or more points just twice this season. In their two losses, Dodge City surrendered 34 points to both Great Bend and Wichita Heights. Those two teams are averaging 45 points per game and are still undefeated this season.
Last week against Wichita South, the Titans tallied 19 points but one of their three touchdowns was scored by their defense.
A key to the Red Demons' defensive success has been the play of many new faces, which include underclassmen.
Sophomore defensive linemen Evan Darville and Marcos Fisher are two of the team's leading tacklers.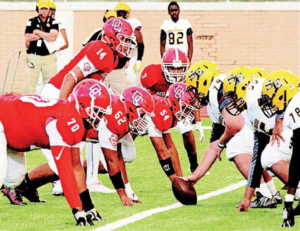 Darville, a 6-foot-2, 270 pound defensive tackle and Fisher, a 6-foot-2, 208 pound defensive end, were playing freshman football last season. This year, they are the plugging gaps and pressure quarterbacks at the 6A level.
Fellow sophomore Sam Meade has also played all five games as a stater on the Red Demons' defense. Meade has tallied 15 tackles.
Dodge City head coach Dave Foster said that the production from the underclassmen has been tremendous thus far.
"Those are kids that have been having to learn on the fly and we're counting on to be, not just okay, but to be good," Foster said. "We're really seeing some plays out of those guys that makes you open your eyes and say 'dang, we've got them for two more years."
Juniors Omar Rico and Ansony Quezada have also been keys to the Red Demons defensive success this season.
The group of juniors and sophomores have provided a sign of encouragement for the coaching staff, not only this season, but for the next few years.
"You count on kids getting stronger, faster and better once the season clears," Foster said. "We're definitely excited for that side of the future."
The Red Demons will travel to Hays on Friday night for their second Western Athletic Conference game of the season. Dodge City will play WAC opponents their next three weeks.
Despite the hatchet game against Garden City being just a week away, Foster is not worried about his team overlooking Hays (1-4, 0-3).
The Indians have not won a game since beating Scott City in their season opener.
"What I'm concerned about is a Hays team that might be healthy and provides a challenge like they did to Great Bend," Foster said. "They've got a lot of good football players, their challenge is they have eight players going both ways.
"We've played a lot of kids both ways for many years so I understand the challenge."
Kickoff is scheduled for 7 p.m. in Hays.