The Dodge City High School football team has had a certain level of familiarity with the first four opponents this season.
When the Red Demons host Wichita South on Friday night at Memorial Stadium, there will be more of a surprise element for both teams. Since Dave Foster took over as head coach in 2010, the Red Demons have not squared off with the Titans.
"We've been talking to coaches in the (Wichita) City League for over a year about Wichita South," Foster said. "The resounding answer that we've gotten is (South) is the most physically talented program in the City League."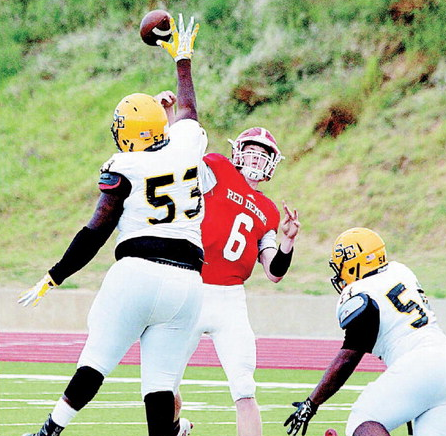 The Titans (3-1) will bring perhaps the best defense in the City League with them to Dodge City. Through their first four games, South has allowed less than 10 points per game. Their only defeat so far was a 21-6 loss to Garden City.
"They have a tremendous level of talent and skill on the defensive side of the ball and we see the same type of thing offensively," Foster said.
Dodge City's defense will face similar challenges with South's offense that they did with Great Bend's offense a week ago. The Titan's have shown the ability to both run and throw the ball effectively. Quarterback Evan Kruse has thrown for just over 400 yards and four touchdowns so far this season. Running backs TreVaunte Hunt and Toulon Neloms have combined for nearly 800 yards and eight touchdowns.
The Red Demons (2-2, 0-1) are trying to snap a two-game skid when they return to Memorial Stadium on Friday night. Dodge City fell just short at Great Bend last Friday following their 34-14 loss to Wichita Heights.
With junior quarterback Dawson Williams and senior running back Tylor Garcia making up a majority of Dodge City's offensive production, the Red Demons have been able to establish their identity early on this season.
"These kids are sharp and they understand what they have to be able to do and if someone is able to effectively stop it, we're going to have problems," Foster said. "They do understand what we do well and understand what we don't do so well and that continues to be a work in progress to close some gaps."
Dodge City last played South in 2007 when they came away with a 47-13 win. The Red Demons will play their final three games against Western Athletic Conference opponents after the game against South.
Kickoff is scheduled for 7 p.m.
By John Zetmeir, Dodge City Daily Globe