Red Demon girls snap skid
By: John Zetmeir
DODGE CITY GIRLS 56 GUYMON 34
The Dodge City High School girls basketball team snapped a two-game skid with a 56-34 win over Guymon on Thursday night in a game that was originally scheduled to be played on Saturday.
The Red Demons started fast by outscoring the Tigers 16-5 in the first quarter as part of a 20-6 run that helped them build a 15-point lead.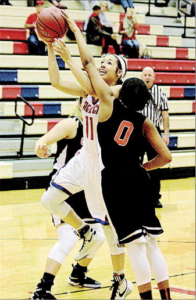 "I think we really got behind our defense and we were flying around," Dodge City head coach Kelley Snodgrass said. "I think they did a good job (rebounding), boxing out and limiting them to just one shot at a time."
Dodge City won the rebounding battle 38 to 27.
Senior Ashley Nelson, who scored Dodge City's first seven points, finished with a game-high 13 points while also bringing down six rebounds.
The Red Demons (3-4, 0-1) will be get back into Western Athletic Conference play on Friday night when they host Liberal.
"It'll be tough but they're young and it's always easier to play games than it is to practice," Snodgrass said. "We're looking forward to getting back into WAC and hopefully redeeming ourselves."
Dodge City boys drop close game
GUYMON 54, DODGE CITY BOYS 52.
The Red Demons had a chance to tie the game on a last second shot after overcoming a double-digit deficit in the fourth quarter but a good final defense stand by the Tigers helped Guymon secure the 54-52 win.
Dodge City trailed by 13 points late in the third quarter before trimming the Tigers' lead to just one point with 2 minutes to go in the game.
"Our kids got tough and guarded," Dodge City head coach Dennis Hamilton said. "(Guymon) pushed us out of our zone (defense) and when they do that you have no choice. You either go out get a guy and man up and fight or you get embarrassed. I thought our kids fought pretty well tonight."
Seniors Chris Baker and Sam Unruh along with junior Hunter Heath scored every point for Dodge City on Thursday night. Baker led all scorers with 19 points while Unruh added 17 and Heath tallied 16.
"Other people got to be able to step up and help us out a little bit," Hamilton said. "It was a tough physical game tonight."
Unruh's 17 points was a career high to go along with six rebounds.
"This is (Unruh's) coming out game," Hamilton said. "That's going to help us moving forward. We finally got him back in the mix and he's ready to go and he gave us great minutes, did a lot of good things around the basket."