Demons host scrimmage, prepare for Junction City
By: John Zetmeir
Both of the Dodge City High School basketball teams got their first taste of playing in front of a crowd on Tuesday night when the Red Demons hosted their preseason scrimmage.
On Friday, the Red Demons will open up their season when they head to Junction City for the first game of the year.
For the Dodge City boys, most of this week will be used to continue building familiarity within the team.
"This early in the year, it's about u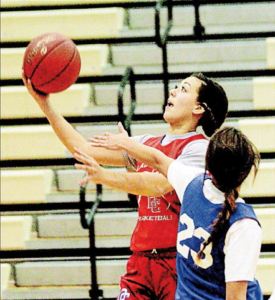 s being able to handle whatever could come at us," Dodge City boys head coach Dennis Hamilton said. "Hopefully we can do that with a degree of confidence and good execution."
The Red Demons fell to Junction City in last year's season opener but both teams will have a completely new look in Friday's meeting.
All five of last season's starters from the Dodge City boys team that made it to the 6A state tournament graduated last year. Through the first few weeks of practice, the Red Demons have tried to find the right mix to help them be successful this season.
"It's going to be fun and it's going to be interesting," Hamilton said. "This is a group of kids that I think is on a little bit of a mission. I'm here to drive the ship and see what they can do with it."
Although the Dodge City girls return four letter winners from last year's team that finished with a 17-6 record, head coach Kelley Snodgrass did notice some growing pains during the first week of practice.
"Early on we were really careless with the ball," Snodgrass said. "I probably saw more turnovers in the first week than I have in a long time but that comes with youth and we haven't really jelled yet as a team because they are playing with a lot of new faces."
Snodgrass has liked how her team responded this week in the second week as they prepare for their season opener on Friday.
The Red Demons topped Junction City in their season opener last season.
"Junction is very athletic," Snodgrass said. "They played us full court man (defense) so obviously there is a concern for turnovers with a young group. We'll have to be on our A game."
The girls will kick things off on Friday at 6 p.m. at Junction City High School.