By: Kyle McCaskey
Dodge City's Tylor Garcia enters the final season of a prestigious high school wrestling career. Garcia is a three-time KSHSAA 6A state qualifier, placing third as a sophomore and second as a junior, where Garcia lost a 1-0 thriller to Garden City's Michael Prieto – one of only 33 four-time state champions – in the 138pound state final. Garcia begins the season ranked No. 2 at 152 by the Kansas Wrestling Coaches Association, and Dodge City is No. 4 in the team ranks.
Dodge City has finished in the Top 5 at state the past two seasons. Who, or what, has elevated the program?
"It's all of us. We wrestle for our families and take care of each other. We try to get better each week.
The team tries to get better and continue to improve on what we need, every match, win or loss. If someone has lost a match, we give feedback on what they could have done better during that match. Coach Lars Lueders has taught us that we're a family and to take care of each other.
Who in the practice room brings out the best in you?
"I think it'd be (182-pound senior) Dylan Servis. He might have gotten hurt last year, but even though he'd be on the side last year, he'd still help me out on what I could have done better.
Especially with the day I faced Michael Prieto for the very first time, him and Clay Weil helped me out with getting a better stance against him and not to be so afraid, just because he was a three-time state champion.
He gave me motivation to face him a second time and to be more confident in myself. Dylan Servis is a very good friend."
Is there a wrestler or team outside your program that you love to face?
"I'd say it probably would be Garden City, because they have such a good program that it (makes us want) to strive to be even better than what they are. It makes me hungry. They have some great seniors with them, and we have some seniors that can be on the same level, if not be better than they are. For that, Garden City is probably the one team I look highly up to."
There was a reasonable argument to be made that you may have scored on Prieto in the closing seconds of the state championship match. Do you feel you got a point out of that match? Or too close to call?
"Honestly, yes, I think I did get those final points, but I may have not secured his leg for a good few seconds so the ref could call it.
Honestly, I believe the refs made a good decision."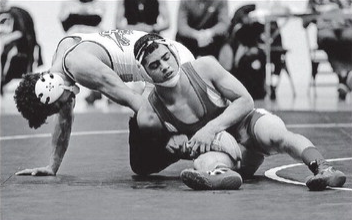 How have you handled the hours, weeks, months since that title match?
"At first, I was very sad and disappointed. Afterward, the coaches and all my other teammates supported me, telling me that even though it didn't go my way, I wrestled my hardest and gave it my all. For that, they believed in me that I could be a state champ next year.
I just learned from that mistake. One of my teammates, (132-pound senior) Devon Plaza, showed me some different situations for when I had (Prieto's) leg.
Now, if I get in that situation ever again, I will finish it and hopefully be on top."
What inspires you to wrestle?
"What inspires me to wrestle is my family. They support me in everything, even though I may be stubborn sometimes. They support me in my decisions, especially last year. Made weight every single week.
They believe in me and I did everything I could. I did everything for them. Even the matches I lost, the ones I won, I wrestled for them. I lost a couple family members on the way. Most of those matches were for all my family and all my wrestling family."
You mentioned you have, unfortunately, lost a couple people along the way. Do you think about them during matches?
"Yes, I do. They give me strength for when I feel like I want to give up.
Especially last year, I didn't think I could make one of my weights during that time. I thought of them. Just striving to get that weight down as quickly as possible.
They're the ones who I will always keep in my heart at the end of those matches."
"I see us doing what we do best – going out, every match, facing Garden, facing all of our (Western Athletic Conference) competition, and just going as hard as we can against them for our future Red Demons.
They have a very bright future in front of them, and they have a very good coach coaching them for those matches. Even with the JV guys, they have some awesome coaches, as well."