Dodge City advances to substate final with 58-23 win
By John Zetmeir
Dodge City Daily Globe
There was no sign of complacency from the Dodge City High School girls basketball team on Wednesday night.
Dodge City (16-5) got off to a quick start in their 58-23 win over Haysville-Campus (2-19) in the first round of sub-state. The Red Demons are just one win away from earning a trip to the 6A state tournament.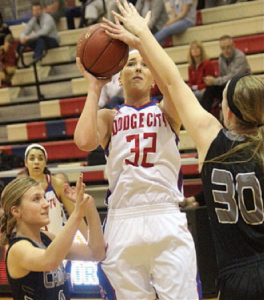 "It's a big confidence booster at this time,"Dodge City head coach Kelley Snodgrass said. "We want to be playing our best basketball come March, we talked about that and I think the girls did that."
Back to back 3-pointe rs from seniors Jessica Harshberger and Baily Shelor ignited a 15-0 run to start the second quarter that pushed Dodge City'sleadto32-7with2:41 to play in the first half. The Western Athletic Conference champions held a double-digit lead for nearly 26 minutes on Thursday.
"The good start for us was big," Snodgrass said. "(Harshberger) and (Shelor) came out a hit a couple of big shots. I think my seniors were definitely ready.When we get out to a good start we just continue to roll."
Ball movement was a strength for the Red Demons on Wednesday night. Dodge City, who averages close to 13assistspergame,tallied18 against Campus.
Harshberger finished withagame-high20points and six rebounds.
Dodge City will host Wichita Northwest (10-11) on Friday night. After falling short of the making it to the state tournament her first three years as a Red Demon, Harshberger is hopeful that the team can earn a trip this season.
"We have a good group of girls his year and we have a really good shot of making it," Harshberger said. "So I think we are just really determined and if we put our mind to it, we can do it."
The sub-state championship between Dodge City and Wichita Northwest is scheduled to tip off Friday at 6 p.m.
DodgeCity-1721182-58 Campus – 7 5 8 3 – 23 DODGE – Harshberger 20, Shelor 11, Price 8, T. Bradshaw 7, Nichols 5, Nelson 3, Morals 2, Okoro 2. 25-51 3-5 58.