Red Demons eager for trip to state tournament
John Zetmeir
Dodge City Daily Globe
It would be easy for the members of the Dodge City High School boys tennis team to be satisfied with their season.
Last week, the Red Demons followed their first Western Athletic Conference championship in 27 years with the program's first regional title in which the entire team qualified for the 6A state tournament.
With the competiti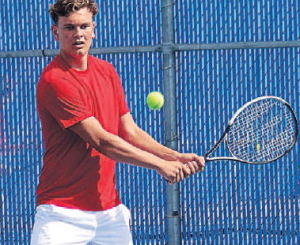 ve nature that the Red Demons have displayed this season, head coach Mark Sandbo does not believe his team is ready to rest on their laurels just yet.
"Every year our goals have been bigger and bigger," Sandbo said. "We've qualified a team to state but we've never won a WAC (title) and we've never won a regional. These guys have made additional climbs but they are by no means satisfied. They've got goals to make it to day two and they have goals to place."
In singles play, junior Brett Groth (27-5) and senior Florian Kark (26-5) enter the 6A state tournament with the most wins of any singles player in the field. Kark has beaten Groth in the the championship match in both the WAC tournament and in last weekend's regional tournament.
"Both bring a unique style to the type of competition that they play," Sandbo said. "Brett frustrates really good players because he's athletic enough to get balls back. Florian can hit with anyone that I've seen. His game will be unique to the state tournament as well."
Kark, a foreign exchange student from Germany, has been the catalyst behind the Red Demons historic season. While he may have just spent one year in Dodge City, he shares the pride of the team's accomplishments.
"To be one of the teams that got a plaque in the hallway is the biggest thing," Kark said. "When you walk through there you can always say 'look at this part of the wall, that's our achievements.'" On the doubles side, Angel Salmeron and Maans Spaangaeng (23-9) along with Richard Rodriguez and Logan Waldman (2111) will represent Dodge City. Including Groth from the singles side, both Salmeron and Rodriguez played in the state tournament last season.
"What I like about this team is that they've been there before," Sandbo said. "(Kark) hasn't played in this tournament before but he's played this level of competition. Everybody else, excluding Logan, has seen what it takes to not only win, but to compete at that level. I think there is a real intent to get some wins."
Action will begin at Harmon Park at 11:30 a.m. on Friday.