'Next man up'
Undermanned Demons host Wichita West
By John Zetmeir
Dodge City Daily Globe
The Dodge City High School boys basketball team have had a short bench for much of this season. When they begin post season play on Thursday, the Red Demons' bench will be stretched even more.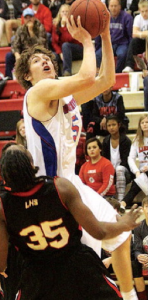 In Dodge City's final regular season game last week, senior forward Noah Williams suffered an ankle injury that is expected to sideline him when the Red Demons host Wichita West on Thursday.
Williams has been Dodge City's most consistent post presencethisseason.During the 20 game regular season, the senior forward averaged 11 points and just under nine rebounds per game.
"Next man up," head coach Dennis Hamilton said. "Obviously we've gotten a lot of minutes out of Matt Karns. Somebody else, whether it is guard or another big that has seen limited minutes is going to get a chance."
Williams is part of a senior class that has carried a majority of the load for Dodge City this season. The six Red Demon seniors averaged 56.8 of Dodge City's 60.8 point per game average. His 8.6 rebound per game average makes up close to one third of the team's rebounding total per game.
"There is definitely pressure for us to fill his gap rebounding," senior Dayton McGroarty said. "He does so much, like stealing passes in the post, that you don't notice until you watch film. He's a great player and we're going to miss having him."
McGroarty has been the Red Demons leading scorer this season, averaging just over 14 points per game.
Dodge City (10-10) won five of their final six games to secure the second seed in their sub-state bracket. The Red Demons would host both of their sub-state games if they were to beat Wichita West (4-16) on Thursday.
Despite their losing record, Hamilton does not want his team to overlook the Pioneers.
"On film, they are a much better team than people would give them credit for," Hamilton said. "They are much better than a four-win team. No question."
Last Thursday, the Red Demons lost their first game in nearly three weeks. The 58-56 loss to Liberal may have ended Dodge City's hopes for a Western Athletic Conference title but Hamilton does not believe that it dampened his team's spirit.
"We're playing our best basketball," Hamilton said. "Not having Noah in the equation tweaks things somewhat but if everyone does what's expected and what they're capable of doing within the system, we're going to have a chance and that's all you can ask for."
Tipoff is scheduled for 6 p.m. on Thursday night.