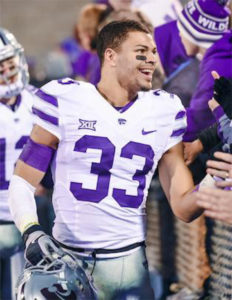 Dodge City High School FCA is pleased to announce that Morgan Burns has accepted an invitation to speak at this year's TOC | FCA Breakfast. The breakfast has been hosted by FCA since 1981. This year's breakfast will be held at Boot Hill Conference Center, adjacent to United Wireless Arena, beginning at 8:30a.m. Tickets may be purchased in the DCHS Athletic Office, at the TOC, or morning of the event.
Morgan Burns, finished his career as one of the greatest kick-returners in Kansas State history. He finished the 2015 season as a First Team All-American and broke numerous school and conference records. He was signed by the Tennessee Titans but made news when he decided to retire from the NFL and enter the ministry. His heart is for sharing Christ with others and his faith drives him in all he does.
Morgan was one of the fastest players on the 2015 Kansas State football team, who turned out to be one of the best kickoff-return men in school history. He earned multiple All-American accolades – including first-team honors from USA TODAY, CBS Sports and FOX Sports – in addition to being named the 2015 Big 12 Special Teams Player of the Year. He was named the Big 12 Special Teams Player of the Week over the final four weeks of the season, setting a league record for consecutive honors. Morgan tied the school's career record for kickoff-return touchdowns, and tied the Big 12 record for career kickoff- return touchdowns. He played in 48 career games with 24 starts at cornerback, helping K-State accumulate a 34-18 record, a Big 12 Championship in 2012, and four-straight bowl berths.
Morgan attended Wichita Trinity Academy under head coach Tyler Ryan. At Trinity he rushed for 2,700 yards and 36 touchdowns over his final two seasons. He was also a state champion in track at 100m, 200m and 400m and was a member of the Wichita Trinity state champion basketball team.
Boot Hill Chapter of FCA is excited to announce the new location for this year's Breakfast. The Boot Hill Conference Center at the UWA seats up to 400 in a banquet style set-up. This facility will allow for both the breakfast and the program to be hosted in the same room, and provides the appropriate media requirements necessary for this type of event. The Boot Hill FCA appreciates the continued community support, making this tradition possible each year.