The Manhattan Indians used strong fourth quarter performances in both the boys and girls game on Saturday against Dodge City High School to win both contests.
After seven lead changes in the first thr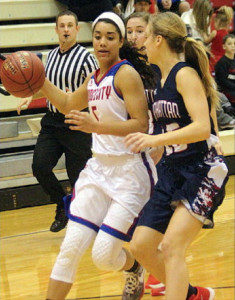 ee quarters, Manhattan used a 10-0 run to take a 35-29 lead over the Lady Demons in the fourth quarter on their way to a 50-39 win.
Dodge City cut the Indians' lead to three-points after a basket from junior Kaylyn Maple with 1:37 left in the game but Manhattan closed the game on an 8-0 run that was produced by efficient shooting from the free throw line down the stretch.
"I think we were tired," Dodge City girls head coach Kelley Snodgrass said. "We didn't get to the 50-50 balls that we usually pride ourselves on. We usually win the battle of the boards which (Manhattan) did tonight. I think our girls just tried to get it all back in one possession and we have to be patient and trust the offense and trust our teammates."

Manhattan out-rebounded the Red Demons 41 to 28 on Saturday. Senior Jessica Harshberger scored all of her team-leading nine points in the second half. Just behind her was senior Taylor Nichols who finished with eight-points.
"A loss is always tough and you never want one to learn from but I think we can learn a lot from this game," Snodgrass said. Dodge City (2-1) will travel to Eisenhower on Friday for their first of two games this week.
MANHATTAN 67, DODGE CITY BOYS 49 Dodge City senior Eric Reid hit a 3-pointer with 6:40 left in the game to cut the Indians lead to 42-40. From there, Manhattan outscored Dodge City 25-9 to end the game, beating the Red Demons 67-49.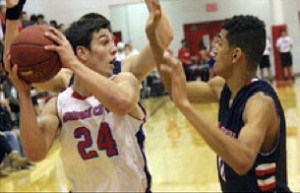 "They started getting to the foul line and it just avalanched from there," Dodge City boys head coach Dennis Hamilton said. "They made some shots, we had to stretch our defense a little bit and they got some easy things at the basket. That's a very deep and talented team and for three and a half quarters, we were right where we wanted to be."
Dodge City overcame an early nine-point deficit when senior Dayton McGroarty made three free throws to tie the game at 29-29 with 6:17 remaining in the third quarter. After fighting back, the Red Demons gave up two 3-pointers in the final 37-seconds of the quarter which gave the Indians a 42-35 lead heading into the fourth quarter.
"Our kids have a lot of fight in them and we're proud of that," Hamilton said. "They'll come back in the gym next week and we'll go to work."
McGroarty scored a gamehigh 17 points on Saturday. ReidwasotherRedDemonto finish in double-figures with 11 points.
The Red Demons (1-2) will be back in action on Friday against Eisenhower. Tipoff is scheduled for 7:30 p.m.
John Zetmeir
Dodge City Daily Globe