Demons top Lancers to earn first season win
By John Zetmeir
The Dodge City High School volleyball team picked up their first win of the season on their home court on Tuesday afternoon against Spearville.
The Red Demons held off the Lancers in the first set before running away with set two for a 2-0 (25-19, 25-14) win.
"The culture that we are trying to build of staying engaged every point is getting better," Dodge City head coach Amy Fleener said.
After jumping out to a 17-9 lead, the Red Demons allowed the Lancers to close the gap in set one. Spearville outscored Dodge City 10-5 but the 22-19 deficit was as close as the Lancers would come as the Red Demons scored three straight points to finish off the set.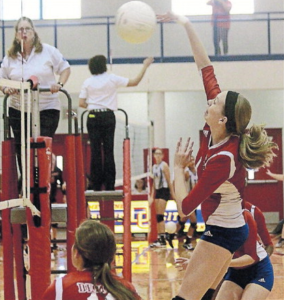 "When you do something good, it gives yourself a little bit of energy and a little bit of momentum," Spearville head coach Syble Thompson said. "When you make a mistake, you have to forgot about it, put it behind you and move on. I don't think they've learned yet that making a mistake isn't the end of the world. They are afraid of making mistakes."
Spearville started the day with a loss to Great Bend. In their final match of the evening, the Lancers pushed Kiowa County to a third set before falling to the Mavericks 2-1 (25-23, 14-25, 17-25).
The Red Demons went 1-2 on the day after falling to Western Athletic Conference foe, Great Bend, in their final match of Tuesday's quad. Dodge City will have a quick turnaround as they will be back in their own gym on Thursday when they welcome in Hays, Lakin and Sublette for another home quad.
"Confidence wise (this week) is huge," Fleener said. "We're trying to build a program and lay a good foundation so I'm not getting too caught up in wins and losses but confidence wise, it's huge for us."
Thursday's quad will begin at 4 p.m.