Lady Demons travel to Newton
By John Zetmeir
Dodge City Daily Globe
The Dodge City High School girls basketball team will head to Newton on Thursday following a nine-day layoff for the 40th Annual Newton Invitational.
"It's going to be a good te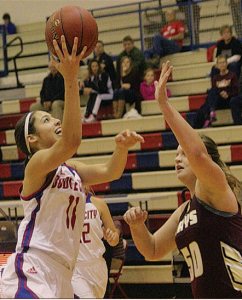 st for us," Dodge City head coach Kelley Snodgrass said. "The girls are excited. We've had a good week of practice so we'll hope for the best."
The Red Demons (7-3) will square off with the Newton Railroaders (6-4) in the last game of the day on Thursday.
Newton enters the tournament after dropping two of their last three games. The Railroaders are led by senior Payton Roberts-Parker who averages just over 11 points per game.
"It'll be a tough test," Snodgrass said. "They'll have the home court advantage and have their crowd behind them. They are young but always well coached and play hard."
Dodge City will be without Brianna Bradshaw this week in Newton. The senior guard leads the Red Demons with just over three steals per game. Bradshaw is also averaging just over five points and three rebounds per game.
"I think it will give some of our younger girls an opportunity and more playing time," Snodgrass said. "We expect big things from our bench and some girls are going to have to play guard who don't usually."
Senior Jessica Harshberger has been the Red Demons most consistent scorer so far this season. Harshberger is averaging 15.3 points per game. Just behind her is junior Tia Bradshaw, who is tallying just under 12 points per contest.
Defense has been the key to Dodge City's four wins in its past five games. The Red Demons are holding their opponents to 36.4 points per game this season.
Dodge City has also made it tough for opponents to knock down shots from behind the 3-point arc. Opposing teams are shooting just 20.8 percent from 3-point range.
Tipoff is scheduled for 8:15 p.m. on Thursday.