Lady Demons overcome Tigers to move to 3-1
By: Shelton Burch
Dodge City Globe Sports Editor
The Dodge City Red Demons girls basketball team beat the Eisenhower Tigers 47-36 Friday night.
They fell behind early, but with just under 1:50 left in the the Demons took the lead 6-5 and never looked back, leading at the end of the first quarter 9-5, 19-12 at halftime and 37-28 at the end of the third.
"We talked about starting strong, staying strong and finishing strong and I felt like they put three good quarters together," Dodge City head coach Kelley Snodgrass said.
Offensively, the team did OK in the third quarter, but defensively the team could have done better she said.
The Lady Demons outrebounded the Lady Tigers 39-31, which included beating the Tigers on the offensive boards 19-12 in the game.
"Overall we did a really good job on the offensive glass but I don't know that we boxed-out as well we needed defensively," Snodgrass said. "They got some second-chance points that they shouldn't have."
Eisenhower's Macy Omli led all scorers with 21 points in the game.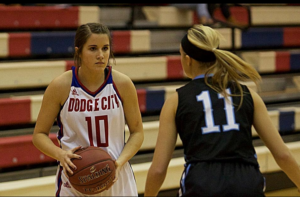 Dodge City freshman Kisa Unruh led the Red Demons with a team-high 13 points, while junior Ezinne Okoro led the Demons with seven rebounds.
It was the third time this season Unruh has scored in double digits. She's one of two freshmen who has seen playing time on the varsity team for the Red Demons so far this season.
Her success so far, she said, has come in part because of the help of her older teammates, such as junior Madison Armstrong and sophomore Chidera Okoro.
"(Playing on varsity) was very nerve-wracking at first, and my teammates have helped me through the process," Unruh said. "Madison has shown me what to do, Chidera has been at my side the whole time, (and) the coaches have pushed me to be my best."
Dodge City's bench was a factor as well, outscoring Eisenhower's 20-4.
"That second-five really came in and gave us a
spark," Snodgrass said.
Early on, Snodgrass substituted all five starters for five bench players. Multiple times, either all five starters or four of those in the game came out.
"That second group really had a good practice yesterday and worked well together so we had kind of planned on that," Snodgrass said. "They had earned that opportunity."
With the win, the Lady Demons will enter Christmas break either with a 4-1 record or a 3-2 record depending on if they beat Guymon next Tuesday. Either way, they'll have a winning record at that point.
"I think it's a big confidence booster," Snodgrass said. "We are young varsity- experiencewise, so to go into Christmas break being on the winning side, I think it'll fuel them to work harder. We do have a tough test, obviously we go to Newton and then we're gonna start (Western Athletic Conference) play so we'll have to do some really good things over Christmas break but I'm very pleased with what we've done this far.'