Dodge City girls seek WAC three-peat
By: John Zetmeir
The Dodge City High School girls basketball team has not lost a Western Athletic Conference game in more than two years entering the upcoming season.
The Red Demons are the two-time defending conference champions. With three returning starters and four total letter winners back from last season, the Dodge City girls are going into the season with the goal of winning a third-straight WAC title.
"We did lose a lot with four players who are playing college basketball," Dodge City head coach Kelley Snodgrass said. "We do have four returners with varsity experience. Tia Bradshaw, Kaylyn Maple and Ashley Nelson have been in the varsity gym since they started so we are expecting big things from them."
Last season, the Dodge City girls earned a trip to the 6A state tournament and finished the season with a 17-6 record.
During her junior season, Bradshaw was second on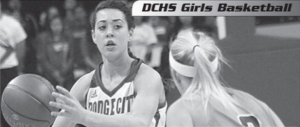 the team in scoring by averaging just under 10 points per game. All three seniors averaged four rebounds per game a year ago.
Snodgrass knows that their opponents will likely construct their game plan to slow down Bradshaw, who has earned All-WAC honors each of the last two seasons.
"She'll have to handle a lot of the ball pressure," Snodgrass said. "They will really key in on her. We'll need other girls to step up and help her handle it."
Defense has been the key to the Red Demons success over the past two seasons. Last year, opponents shot just 30.5 percent from the field and 20.9 from 3-point range against Dodge City.
The Red Demons were able to make life tough for opposing guards because of the veteran back court that Dodge City had last season.
"You always make adjustments based on your personnel," Snodgrass said. "So there will be a few tweaks because maybe our strengths aren't the same. We were guard heavy last year and we're not so guard heavy this year. We'll have to make a few adjustments but we've been successful in the system so we'll stick to it as much as we can."
Senior Hannah Sowers along with sophomores Madison Armstrong and Ezinne Okoro are players who will likely have extended roles this season.
The Red Demons will begin their season at Junction City on Dec. 2