Throughout the regular season, Dodge City High School girls head tennis coach David Snodgrass said that he wanted to see his team continue to improve so that they would be playing their best tennis by the time October rolled around.
On Monday afternoon in Liberal, Snodgrass did not feel like his team competed to its best ability.
The Red Demons fell to Garden City and Hays by just one point in the Western Athletic Conference championship meet. Garden City won a tiebreaker with the Indians to earn the WAC title.
"I still think our team as a whole was the most talented team but we just didn't have the fight today," Snodgrass said. "Hays and Garden City definitely went out there and competed like they wanted to win a WAC championship and they definitely deserved the opportunity."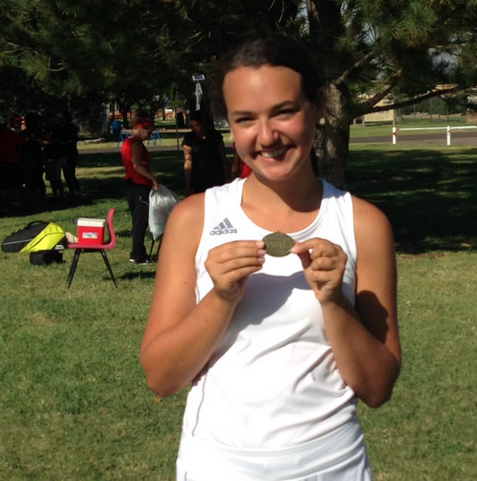 Junior Leah Stein and senior Daniela Villarreal both earned WAC titles, Stein in No. 1 singles and Villarreal in No. 2 singles. Stein was also named WAC Player of the Year.
Stein won all four of her matches which included a hard-fought 8-5 win over Liberal's Tierra Stoney who lost just one match on Monday. Villarreal dropped one match to Garden City's Tayrin Tabor in the first round but rebounded with three straight wins to finish the day.
"They did what they needed to do to get those individual championships and help us be in contention as a team," Snodgrass said.
On the doubles side, Hannah Sowers and Marin Dameron took third place in No. 1 doubles while Abigail Argumedo and Kameron Lowery finished fourth in No. 2 doubles. Sowers and Dameron fell to Garden City 8-2 in round one before ending the day with an 8-3 loss to Hays.
Argumedo and Lowery were blanked by Garden City in the first round and fell to Hays 8-3 to end the day.
"We just have to make sure that we fight and claw and win those decisive points in those tight matches," Snodgrass said. "All of those games could have gone different ways. Instead of being down 6-1, it could be 4-3."
The Red Demons will have four days of practice to prepare for regionals this Saturday at Wichita Northwest.
"It'll be interesting to see how the ladies respond," Snodgrass said. "I think that they are definitely disappointed and definitely a little frustrated as well. So I hope that they are able to take all of that and respond with the adversity and practice a little harder this week going into regionals."
By John Zetmeir, Dodge City Daily Globe