The Dodge City High School girls tennis team did not spend too much time lingering on their third place finish at the Western Athletic Conference championships on Monday in Great Bend.
After losing the opportunity to win a second-straight WAC championship by just one point on Monday, the Red Demons returned to the practice courts on Tuesday in preparation for this weekend's regional tournament.
"They've shown that they're focused," Dodge City head coach David Snodgrass said. "At this point, it's more mental preparation. I think they've been able to take that disappointment from Monday's performance and turning it into positive energy."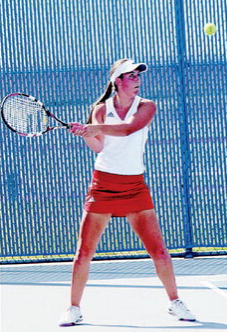 Despite the third place team finish, the Red Demons swept the singles brackets. Junior Leah Stein won all of her matches to earn a WAC championship in the No. 1 singles pool.
Stein was also named WAC Player of the Year.
"It was incredible," Stein said. "I really wasn't expecting it because it's usually a senior (who wins it). I was proud of how I played and when they announced it I was really excited."
Senior Daniella Villarreal also won an individual WAC title in the No. 2 singles bracket. Villarreal, who holds an 18-9 record this year, has been playing tennis in the United States for the first time this season.
The exchange student from Colombia is now looking forward to the challenge of qualifying for the state tournament.
"I know that there are going to be hard games but I always keep a positive attitude and think that if you want to win, you're going to try and fight for every ball," Villarreal said.
The Dodge City girls placed fourth in last year's regional tournament and qualified four Red Demons for the 6A state tournament. Stein (22-7) took third place in the No. 1 singles bracket.
Senior Hannah Sowers was part of a doubles team that also earned a trip to state. Sowers will compete in the No. 1 doubles bracket with Marin Dameron this Saturday.
Kameron Lowery and Abigail Argumendo will play No. 2 doubles.
"Our singles have the best opportunity from what they've done throughout the year," Snodgrass said. "It's going to be a little tougher in doubles. It will depend on seeding and match ups. I think both doubles teams stand a good chance if they get a good match-up. They are both capable."
Action will begin Saturday morning at Wichita Northwest High School.
By John Zetmeir, Dodge City Daily Globe