LITCHFIELD PARK, Ariz. (Dec. 7, 2015) – The Patriot All-America, a top amateur event attracting 84 nationallyrecognized, elite collegiate PING All-America Golfers, is pleased to announce Zach Kirby from Dodge City, Kansas will be competing in the 5th annual tournament from December 27th – 31st in Litchfield Park, Arizona.
"The Patriot All-America is a three-day, 54-hole stroke play golf tournament honoring the military and acknowledging their sacrifices on The Wigwam's iconic Gold Course," said Ed Gowa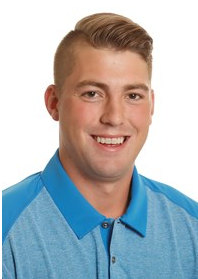 n, Executive Director of the Arizona Golf Association. "It's the only bowl-like experience for golfers that allows players from all divisions to compete against one another. Each American golfer will carry a commemorative red, white and blue PING golf bag bearing the name, rank and service of a fallen soldier from the community in which they live or attend school, while the special International players will carry white bags with their heroes honored."
Zach Kirby is from Dodge City, Kansas and attends the University of Kansas. Kirby was named to the NJCAA Division I PING All-District Team and to the NJCAA Division I PING All-American Team. He was also the recipient of the Jimmy Russell Award. He will be playing in honor of Master Sergeant Bernard L. Deghand.

 Master Sergeant Deghand was killed in action on September 15, 2006 in Spira, Afghanistan during Operation Enduring Freedom. He was assigned to the 35th Division Artillery, Kansas National Guard. Aside from his military career he coached his children's sport teams. Master Sergeant Deghand is survived by his wife and their three children.
The Patriot donates its proceeds to the Folds of Honor Foundation, a nonprofit organization dedicated to providing post-secondary educational scholarships and assistance for children and spouses of military service men and women lost or wounded in battle. Following the championship the PING bags are auctioned off to the players' respective schools and the proceeds are donated to the Folds of Honor.
The Patriot All-America was created in partnership with the Arizona Golf Association (AGA), JDM Partners, The Wigwam and the Golf Coaches Association of America (GCAA). The field is highlighted by more than 45 golfers from Division I schools with several from the top-100. Notables are 2014 Patriot All-America champion Kyle Kochevar of University of Virginia playing in his fourth Patriot, Kyle Mueller of University of Michigan and Sean Crocker of University of Southern California to name a few.

Special to the Globe