Dodge City boys, girls drop home opener
By: John Zetmeir

Hugoton's fast-paced tempo frustrated the Dodge City High School girls basketball team from the opening tip-off on Tuesday night. The Eagles ran away with a 71-47 win in the Red Demons' home opener.
Dodge City (1-2) turned the ball over 27 times, 12 of which came in the first quarter.
"We've got to do better at executing the game plan," Dodge City head coach Kelley Snodgrass said. "We had people in different positions. We've got to be able to handle pressure because we are going to see that at the 6A level as well so we really need to minimize turnovers and value every possession."
Hugoton, the No. 1 ranked team in 3A, scored 25 points in the first quarter on 10-of-15 shooting from the field while also forcing 12 Dodge City turnovers. The Eagles took a 23-12 lead near the end of the first quarter and led by double digits the rest of the way.
The Red Demons were limited with their rotations on Tuesday as they were without three members of the team.
"We're going to face adversity before Christmas due to injuries and due to absences," Snodgrass said. "People on the bench are stepping up and that's what we need but yeah, we would've liked to have a few more (substitutes)."
Senior Tia Bradshaw finished with 24 points and seven rebounds while fellow senior Ashley Nelson tallied nine points and nine rebounds.
Hugoton's Kathryn Heger led all scorers with 26 points while teammate Amy Scott added 17.
HUGOTON – 25 17 11 18 – 71
DODGE CITY GIRLS – 13 13 5 16 – 47
Bradshaw 24, Armstrong 9, Nelson 9, Buller 3, Morales 2. 17-45, 10-19 FT, 3-18 3FG.
HUGOTON 62, DODGE CITY BOYS 55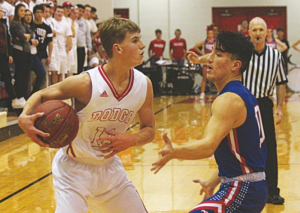 The young Dodge City High School boys basketball team showed signs of improvement despite suffering their third-straight loss to start the season on Tuesday.
The Red Demons and Hugoton exchanged the lead seven times in the first half before a 9-0 run late in the second quarter helped the Eagles create separation.
After trailing by 14 points early in the fourth quarter, the Red Demons chipped away at Hugoton's lead to make it a four-point game in the final minute after a steal and layup by senior Chris Baker.
Dodge City made 20-of-37 shots from the floor and 7-of-13 free throw attempts on the night. It was the best shooting performance of the season so far for the Red Demons.
"We made shots," Dodge City head coach Dennis Hamilton said. "I knew that we were better than what we showed the first two games. Tonight we got off and (Baker) really led us early on and knocked down some shots. When you're knocking down some shots, going down to the (defensive) end is a little easier."
Baker led all scorers with 17 points which included five 3-point makes.
With 2:19 left in the game, sophomore Noah Sowers was fouled on a layup and turned it into a three-point play after making the free throw that cut Hugoton's lead to 55-50. Sowers scored 13 points and added five rebounds.
"(Sowers) has kind of become the motor to this team out front," Hamilton said. "He does a really good job and kids respond to him."
Both Dodge City teams will continue their grueling week on Friday when they travel to Goddard-Eisenhower before returning home Saturday to host Manhattan.
HUGOTON – 15 17 10 20 – 62
DODGE CITY BOYS – 14 9 13 19 – 55
Baker 17, Sowers 13, Heath 11, Williams 7, Riekenberg 5, Gleason 2. 20-37, 7-13 FT, 8-14 3FG.