By John Zetmeir, Dodge City Daily Globe
Dodge City High School girls basketball coach Kelley Snodgrass felt like her team made progress during their winter break. That progress translated into a 72-31 win over Great Bend in the Red Demons Western Athletic Conference opener. Dodge City (4-2, 1-0) will look to start their first winning streak of the season Friday night when they take on the Cimarron Bluejays at United Wireless Arena.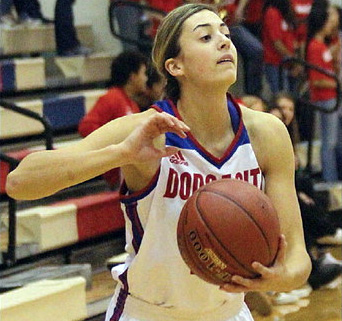 The Bluejays (6-1) are led by senior Korina Bailon. Bailon, the only returning starter from last season's team that made it to the 3A state championship game, is averaging 15.9 points and 6.3 rebounds per game.
"Cimarron is always tough," Snodgrass said. "They have a great program over there. They are well coached and they know how to win."
The Blue Jays got the better of the Red Demons in last year's meeting but after graduating four seniors, Dodge City could be the toughest test to date for the young Blue Jays.
"This is always a game we look forward to and it is exciting for our team," Cimarron head coach David Ediger said. "Dodge will present us with challenges we haven't seen yet. Given the fact that they return everyone from last year and have very good guards to go with solid post players."
Cimarron's lone loss this season was to Meade in the Bluejay Invitational. The Bluejays fell to the Buffaloes 41-40.
After a two-game skid, the Red Demons have won their last two game by an average of 44 points.
Tipoff is scheduled for 6:30 p.m. on Friday night at the United Wireless Arena.