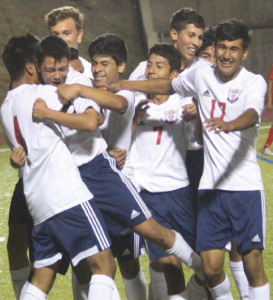 The Dodge City Red Demons knew that as they continued to win, the games would get harder and the opponents would get tougher. It took the Red Demons 46-minutes to find the back of the net against Wichita North on Tuesday but once they did, the Redskins could not find an answer.
Dodge City beat Wichita North 3-0 to advance to the 6A state semifinals in Olathe for the first time since 2010.
Head coach Saul Hernandez never made it to the semifinals when he was a player for the Red Demons. In his first year coaching his alma mater, he gets to cross that goal off of his list.
"Honestly, (Hernandez) brought the team together even more than we already were," senior midfielder Leo Lopez said. "Last year we had an amazing team, we just couldn't finish. Finish, I think he got that in our heads. We just stuck to the plan. We did what he said and look where we got."
13 minutes into the game, Wichita North missed a penalty kick that would have given them an early 1-0 lead. The Redskins were able to throw the Red Demons off of their rhythm for the first 40 minutes.
Sophomores Mario Martinez and Joshua Don Juan scored goals less than a minute apart in the first 10 minutes of the second half. From that point on, the Red Demons seized control.
"At halftime we emphasized just playing our game," Hernandez said. "The first half I think we were nervous, a little more tense but the second half we calmed down."
Senior Maans Spaangaeng scored the final goal of the evening in the 54th minute.
Tuesday's 3-0 win gave Dodge City (18-1) their 13th shutout this season. Even when the shots were not hitting the back of the net, the Red Demons' team defense has kept them in control of games this season.
"Coach (Hernandez) got that in our heads," Lopez said. "When you lose the ball, everybody is a defender. I think that's what helped us out this year. This game especially."
The Dodge City boys soccer team's final goal this season is to win a state championship. The journey to be crowned the top team in the state starts this Friday in Olathe.
"We're going to go and represent the western side of the state and we're going to bust our butts off and give everything we've got," Lopez said.
By John Zetmeir
Dodge City Daily Globe