Dodge City swept by Great Bend
By John Zetmeir
Dodge City Daily Globe
The Dodge City High School baseball team had opportunities to secure their first Western Athletic Conference win of the season. Unfortunately for the Red Demons, they could not get the big hit they needed to secure the illusive WAC win.
DodgeCityfollowedan8-6 loss to Great Bend in game one with a 1-0 loss to end the evening.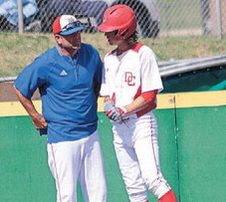 After the Panthers took a 5-2 lead into the bottom of the fifth inning, the Red Demons had an opportunity to close the gap. Dodge City loaded the bases with just one out but a ground ball double-play ended the inning.
An error from Great Bend scored two runs to cut the Panthers' lead to 5-4 in the bottom of the sixth inning but a three-run top of the seven was too much for the Red Demons to overcome.
In game two, a solo home run by senior Jaxx Hillman was all Great Bend needed to finish the day with a sweep. Dodge City senior Dayton McGroarty pitched all seven innings for the Red Demons. The senior gave up one run on four hits and walked just one GreatBend batter. McGroarty also went 2-for-3 at the plate in game two.
Dodge City (5-8, 0-7) will host Liberal on Friday.