Dodge swept by Garden City on road
By: John Zetmeir
Red Demons fall to Buffs
The Dodge City High School girls basketball team were forced to play catch-up from the very beginning against Garden City on Tuesday evening.
After getting a layup 4 seconds into the game, the Buffaloes led until there was just 2 minutes left on the game clock when freshman Chidera Okoro gave the Red Demons their only lead of the game. The Dodge City girls held a 32-31 lead for 55 seconds until the Buffaloes recaptured the lead and did not give it up as Garden City held on for a 35-33 win.
As time expired, senior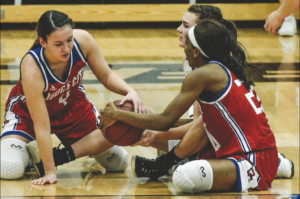 Tia Bradshaw was fouled on a 3-point attempt at the buzzer but the senior guard was unable to tie the game. Bradshaw led all scorers with 14 points.
"I think we caused some havoc, they fought back and we had every opportunity at the end," Dodge City head coach Kelley Snodgrass said during her post game radio interview. "Like I told the girls, you don't lose the game in the last minute, it was lost way before that when we gave up second-chance opportunities, when we gave (Garden City) run out baskets because we didn't know who we were guarding. Those are the things I look back at."
The Red Demons trailed 30-22 going into the fourth quarter but 10-1 run over the first 6 minutes of the final quarter put Dodge City ahead. A pair of free throws from Alexis Ontiberos cut Garden City's lead to one point before Okoro's layup put them ahead.
The Dodge City girls, who enjoyed an 18-game Western Athletic Conference winning streak coming into the season, are now0-4inconferenceplay at the midway point in the WAC season. Garden City snapped a five-game losing streak to Dodge City with Tuesday's win.
The Red Demons (4-9, 0-4) will take on Ulysses next Tuesday.
Garden City girls – 14 5 11 5 – 35
Dodge City girls – 9 6 11 5 – 33
Dodge City – Bradshaw 14, E. Okoro 10, C.Okoro 4, Cecil 3, Ontiberos 2. 9-31, 12-18 FT, 3-11 3PT. 33.
GARDEN CITY 54, DODGE CITY BOYS 43
A promising start couldn't be sustained by Dodge City in their 54-43 loss to Garden City on Tuesday night.
The Red Demons jumped out to a 15-6 lead early in the second quarter after 10 first quarter points by junior Hunter Heath but the Buffaloes answered with an 18-4 run over the final 7 minutes of the first half to take a 24-19 advantage.
Garden City's lead grew to 41-32 in the fourth quarter before an 8-0 got Dodge City back into the game with 2:28 to play. A 3-pointer by senior Chris Baker cut Garden City's lead to 41-40 but clutch free throw shooting by the Buffaloes helped them snap a four-game losing streak to the Red Demons.
Three Buffaloes were perfect from the free throw line as the team finished 14-of-20 from the line.
"We had our chances with free throws but didn't capitalize," Dodge City head coach Dennis Hamilton said. "We got forced into fouling them."
The Red Demons (2-11, 1-3) were led by Heath who finished with 15 points. For Garden City Zac Karlin and Garret Doll carried a majority of the scoring load. Karlin led all scorers with 18 points while Doll added 17.
Garden City boys – 6 18 13 17 – 54
Dodge City boys – 13 6 11 13 – 43
Dodge City – Heath 15, Baker 9, Sowers 8, Sanchez 5, Unruh 4, Rickenberg 2. 15-32, 8-17 FT, 5-12 3PT. 43.