Dodge City splits WAC opener
By: John Zetmeir
Offensive struggles were the ultimate undoing of the Dodge City High School girls basketball team's Western Athletic Conference winning streak.

An 18-game conference winning streak was snapped by a 52-37 loss to the Great Bend Panthers on Tuesday night. The streak began after a loss to Great Bend in February of 2014.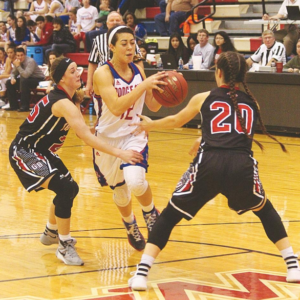 While the Red Demons' undefeated conference run did come to an end, they still have seven more opportunities to win a third-straight WAC championship.

"We've got to take it one game at a time," Dodge City head coach Kelley Snodgrass said. "It was a great run while it lasted but WAC is still wide open this year. That was game one and I think the girls know that. I'm almost glad that it's over so now the pressure is off and hopefully we can get back at it and take it one game at a time."

Dodge City struggled to make shots from the opening tip. Senior Ashley Nelson made the first field goal of the day with 3:20 left in the first quarter and a 3-pointer by Kaylyn Maple at the buzzer was the only other field goal make of the first quarter.

The Red Demons made just 6-of-26 field goals in the first half and 12-of-46 for the game.

Senior Tia Bradshaw led the way with 12 points while Nelson added 10. Great Bend's Carley Brack led all scorers with 27 points.

A 9-0 run in the final 2 minutes of the first half helped get Dodge City back into the game after trailing 23-8. Great Bend answered the run by starting the third quarter with an 8-1 run of its own.

"We definitely weren't hitting any (shots) and that carried over to our defensive intensity," Snodgrass said. "You hate for that to happen but it does. I think part of that is being out of shape. We're not back in shape yet.

The Red Demon girls (2-3, 0-1) will take on Cimarron this Friday at United Wireless Arena.

DODGE CITY BOYS 49, GREAT BEND 40.

A third quarter surge by Dodge City propelled the Red Demons (1-4, 1-0) to their first win of the season on Tuesday night in their WAC opener against Great Bend 49-40.

Dodge City did have to hold on after they allowed a 35-20 lead to slip to 42-40 with just under 2 minutes to play in the game.

After leading 16-14 at the halftime break, the Red Demons came out firing in the second half. Senior Chris Baker knocked down a 3-pointer before junior Luke Gleason connected on two 3-pointers on back to back possessions.