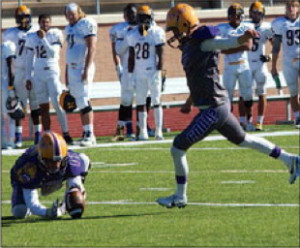 The No. 11 Dodge City Community College Conquistadors had three players earn National Junior College Athletic Association All-American honors on Monday.
Headlining the group was kicker Dillon Burkhard who was named to the NJCAA First Team All-American list. The Dodge City native hit 11-of-15 field goal attempts this season. Burkhard scored 81 points for the Conqs this year after leading the team in points in 2014.
In his first season as the Conqs head coach, Gary Thomas did not have true kicker on the team in 2013. Once Burkhard decided to transfer from Hutchinson Community College back home to Dodge City, Thomas not only had a true kicker but found that he had one of the best kickers in the country.
'It takes a lot of pressure off of your offense knowing that if you get somewhere close, you could get points out of the drive,' Thomas said. '(Burkhard) has been as consistent as anyone can be on extra points. Where it brings the biggest difference maker on a football team is actually the kickoffs more so than the field goals."
Burkhard was excited but surprised to be named the best kicker in the NJCAA when he first saw the honor on Monday. The sophomore kicker credited the Dodge City coaching staff for helping get to this point.
"Coach Thomas is a great coach," Burkhard said. "As soon as I came in, he told me that I was going to be an important weapon to his team and that they were going to need me. He would put me under pressure in practice to get me ready for game time situations."
Burkhard will remain at Dodge City Community College next semester as he continues to look for the next school that he will attend.
Sophomore running back Mark Thompson and sophomore offensive lineman Chris Gaynor were the other two Conqs to earn All-American status. Both Thompson and Gaynor earned Second Team All-American honors.
Gaynor was a crucial part of the offensive line that helped Thompson rush for 1,298 yards and 18 touchdowns this season.
"It's nice to have those guys recognized," Thomas said. "Not only does it bring publicity to the program but guys deserve individual awards too. As much as the conference championship, the bowl bid and all that other stuff, it's nice to be recognized as an individual every once an awhile for your accomplishments."
John Zetmeir
Dodge City Daily Globe