Keeping the momentum
By John Zetmeir
Dodge City Daily Globe
DODGE CITY GIRLS (12-5, 5-0) VS. GREAT BEND (10-6, 4-1)
The Dodge City High School girl's basketball team has a Western Athletic Conference title on the line when they host Great Bend on Friday night. The Red Demons sit just one game above Great Bend in the WAC standings with three games left to play.

The Red Demons beat Great Bend 52-36 in their WAC opener but a lot has changed for the Panthers since the early meeting. Senior Lauren Welsch has returned from an injury that sidelined her earlier this season.
'Welsch makes a big difference,' Dodge City head coach Kelley Snodgrass said. 'She's scored 20 (or more points) in quite a few of the games. She's their floor general and she's a very tough-minded kid.'
The Red Demons, last season's WAC champions, have not lost a conference game since losing to the Panthers in February of 2014. They have won their last 15 conference contests.
Dodge City heads into Friday's matchup riding a four game winning streak. It was a streak that began with a 45-39 win over McPherson, who was 12-1 when the two teams met.
While Snodgrass is happy that her team is playing their best basketball of the season at the moment, she would still like to see her team play their best basketball for an entire game.
'I want to play four quarters of strong basketball,' Snodgrass said. 'I think we've played well for two (quarters), well for three (quarters), played good defense and played good offense. Four quarters of good basketball both offensively and defensively is what I want to see.'
Tipoff is scheduled for 6 p.m. at Dodge City High School.
DODGE CITY BOYS (8-9, 3-2) VS. GREAT BEND (4-13, 2-3)
The Dodge City boys can shed their losing record on Friday night when the Great Bend Panthers come to town.
The Red D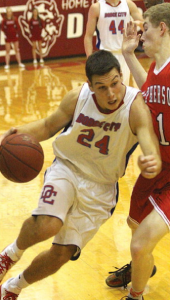 emons have won their last three games to put them back in the running to host one, or even possibly two, substate games. 'It would be nice to get back to (an even record), considering where we were about three weeks ago,' Dodge City head coach Dennis Hamilton said. 'Our kids are starting to see the benefits, record wise, of everything that we are putting in now.'
In the first meeting with the Panthers, Dodge City topped Great Bend in their WAC opener. While the Red Demons beat Great Bend on their home floor by double-digits, Hamilton emphasized that his team better not overlook Friday's game.
'Great Bend has improved, dramatically,' Hamilton said. 'We cannot overlook them, we aren't that good. We are a bluecollar team that has to show up and grind every night.'
Senior Dayton McGroarty has continued to be the Red Demons most reliable scoring threat, averaging 13.1 points per game. Despite having just one player averaging doubledigit scoring totals, Dodge City has three players not far behind McGroarty averaging eight points or more.
'I think it's hard to concentrate on just one of our players to shut down,' Hamilton said. 'They want to slow everybody down but we always have someone picking the rest of the team up. We've been putting three in doublefigures and it hasn't always been the same three.'