By John Zetmeir
On a day that the Dodge City High School girls tennis team had to do some shuffling around, the Red Demons were still able to defend their home courts and win the Dodge City Invitational.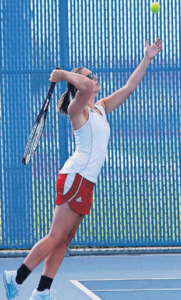 The Dodge City girls finished with 23 points, edging out Hays who tallied 21 points. The Red Demons earned top-three finishes in all four brackets.
"I thought we faced some adversity just because of the lineup change but in the grand scheme of things, I wanted us to get better for October," Dodge City head coach David Snodgrass said. "Certain girls needed to get better whether it was by hitting more balls at singles or playing doubles. So overall we accomplished what we wanted to do."
Because of an injury to senior Daniela Villarreal, senior Hannah Sowers was asked to play singles for the first time at the varsity level. The senior won all of her matches on her way to a first place finish in the No. 2 singles bracket.
"I was very nervous but my coach had very high expectations for me so I was just happy to live up to his expectations," Sowers said.
Sowers qualified for last year's 6A state tournament as part of a doubles team.
Junior Leah Stein lost just one match to earn third place in the No. 1 singles bracket. The No. 1 doubles team of Kameron Lowery and Marin Dameron also took third while Siarra Grice and Abigail Argumedo scored six team points as they finished second in the No. 2 doubles field.
The Red Demons will continue to prepare for the Western Athletic Conference championships on Oct. 3 over the next three tournaments starting in Salina on Sept. 22. Dodge City is looking to defend last year's conference championship.
"These ladies have bought in and they understand that we're in it for team championships," Snodgrass said. "Sometimes you have to sacrifice individual success to win a team championship. We have four great girls who would make great singles players but two of those girls are really good doubles players too. So overall it's made our team stronger."