So far this season, the Dodge City Red Demons boys soccer team has achieved every goal that they have set to this point. On Tuesday, they started their quest for their final goal with a 10-0 win over Junction City to start postseason play. The Red Demons jumped on the Blue Jays with a quick goal after just a minute and 15 seconds from sophomore Mario Martinez. Fellow sophomore Joshua Don Juan added another goal five minutes later.
"We don't want to give any team a chance," head coach Saul Hernandez said. "We need to start (scoring) from the beginning and the boys did that. There's nothing else I could have asked from them today. We scored in the first minute and a half and some teams won't be able to bounce back from that."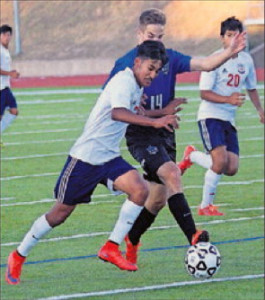 Martinez and Don Juan both finished with a hat trick. Sophomore Alejandro Rojas and senior Johnny Ortiz each added a goal for the Red Demons as well. Junior Jose Ubanda scored the final two goals to end the game early for Dodge City.
Dodge City (16-1) will host Wichita Northwest (10-7) on Thursday for the regional title. The Red Demons have won their last 14 games and cannot afford to let that streak end if they hope to compete for a state championship. Hernandez has noticed that the intensity has ramped up amongst his players now that postseason play has begun.
"Before I would have to get them focused on get on them but now they do that themselves," Hernandez said. "It shows me that they've switched on their game face."
The game is scheduled to start at 6 p.m. at Memorial Stadium.
By John Zetmeir, Dodge City Daily Globe