Dodge City, Cimarron square off at United Wireless
Boys team hope to keep positive momentum going
By John Zetmeir
Dodge City Daily Globe
After a 1-3 start to the season, the Dodge City High School boys basketball team (3-3, 1-0) head into their matchup against Cimarron looking to keep their positive momentum going.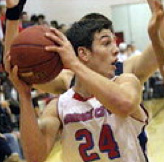 The Red Demons won their first game of Western Athletic Conference play 63-50 on Tuesday at Great Bend.
"I know it's only a twogame streak but we do have a little streak going," Dodge City head coach Dennis Hamilton said. "I'd love nothing more than to extend it but we're at a pretty good point right now in the season. Our kids have gotten competitive in practice and in games and that'll take you a long ways."
The Bluejays (5-2) provide a unique challenge to the Red Demons, not only with their size and athleticism but with the familiarity between their two head coaches.
"The programs are going to mirror each other for obvious reasons," Hamilton said. "Coach (Tim) Brooks was on our staff for 13 years and he played basketball for me in high school. He'll have some wrinkles and we'll probably have a few wrinkles."
Junior forward Nick Ast leads the Bluejays in scoring, averaging 15 points per game. Fellow forward Jaylen Pickle is not far behind Ast, averaging 12 points per game. The sophomore is also leading the team with 10 rebounds per game.
For the Red Demons, senior forward Noah Williams had his best game of the season in Dodge City's win over Great Bend. Williams scored 22 points and grabbed 11 rebounds. The team's leading scorer, Dayton McGroarty, scored 19 points against the Panthers on Tuesday.
"Dodge is playing well now and are very well coached," Brooks said. "They are balanced offensively with a good inside-out combination of Williams and McGroarty. We will have to be at our best to come out with a win."
The boys are scheduled to tipoff following the conclusion of the girls game on Friday night at the United Wireless Arena.