Demons try to slow down Great Bend
By: John Zetmeir
The Dodge City High School football team has shown the ability to slow down an opposing team's running game.
When they travel to Great Bend for their first road game of the season, they will also be forced to defend the pass.
Through three games, Great Bend senior quarterback Jacob Murray has been one of the most dynamic signal callers in the state. He's got the Panthers (3-0) off to a perfect start after their 58-47 win over Wichita Northwest last Friday.
Murray has completed 48-of-66 pass attempts for 676 yards and eight touchdowns.
He has also carried the ball 60 times for 352 yards and eight touchdowns.
"It definitely raises some concern which explains why they are scoring the number of points that they have been," Dodge City head coach Dave Foster said. "(Great Bend) is a good football team, that's why they are a state ranked team."
Last season, Murray led Great Bend to a 7-3 record while tallying close to 2,500 total yards of offense and 31 total touchdowns.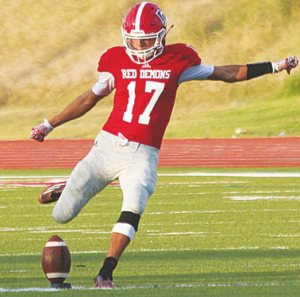 However, the Red Demons held the Panthers to a season-low seven points in their 51-7 win in Great Bend. Dodge City forced two fumbles and blocked in the first quarter to take a 27-7 lead early in the game.
"We were dominant on the offensive side, the kicking game with some blocked punts and the defense played a whale of a game," Foster said. "We were able to corral the quarterback last year.
They are a year older and they bring back a lot of kids.'
The Red Demons' offense struggled last week in their 34-14 loss to Wichita Heights. Dodge City's first touchdown did not come until the third quarter when quarterback Dawson Williams carried the ball in from the 1-yard line after a Heights fumble.
Williams has scored 10 of the Red Demons 11 touchdowns this season. Senior running back Tylor Garcia has one rushing touchdown and has been on the receiving end of both of Williams' touchdown passes.
Tonight's game at Great Bend will be the Red Demons' Western Athletic Conference opener. Dodge City went 4-0 in WAC play last season on their way to their first conference championship since 2010.
The Red Demons have not lost to Great Bend since 2012.
Kickoff is scheduled 7 p.m. at Great Bend High School.