Dodge City advances to state championship game with 2-0 win
By: John Zetmeir

WICHITA – For the first 10 minutes of Friday night's 6A state semifinal game, the Dodge City High School boys soccer team struggled to get possession of the ball.
After the shaky start, th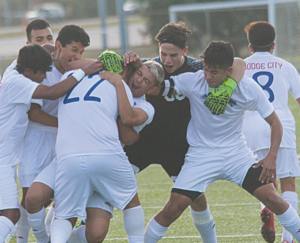 e Red Demons began to settle in Dodge City controlled the ball for much of the evening on their way to a 2-0 win over Shawnee Mission East which earned the Red Demons a spot in the 6A state championship game for the first time in school history.
"We just needed to get into a rhythm," Dodge City head coach Saul Hernandez said. "(East) pressured high, they touched the ball well and they played a formation which we aren't used to seeing. After we got a little bit of a rhythm going, we started playing our game and I didn't see us slow down after that."
The Red Demons (20-0) had four shots on goal before junior Joshua DonJuan scored his 25th, and most important, goal of the season.
The goal came 23 minutes before the halftime break.
"That goal was big for us," Hernandez said. "It gave us confidence, it gave us momentum and it opened the game up more for us. We had a lot of opportunities after that."
With 20 minutes to play in the game, junior Cesar Alvarez cemented the win with his third goal of the season.
"We felt at home," DonJuan said. "It was amazing. There was a lot of fans that came from Dodge City to support us."
Dodge City defender Eli Ortega suffered an early injury that limited the senior captain's minutes for most of the evening. When Ortega had to come out, it was sophomore Alexis Alvarez that filled in.
"(Alvarez) had some big shoes to fill for Eli and he did a really good job," Hernandez said. "We told him that his performance was outstanding."
Last season, the Red Demons were happy to end their season with a win in the consolation game. It earned Dodge City it's first soccer state trophy in school history.
This season a trip to the consolation game would have been a disappointment in the eyes of both the coaches and players.
"I think it gives the boys more purpose," Hernandez said. "If we would've lost, it would have been kind of hard to get their heads in it because we wouldn't have celebrated third place like we did last year. To have the opportunity to be in the championship game is something special. It's what we've been looking for and hopefully we can put it together."
Coincidentally, the Red Demons will meet Olathe East for the second season in a row. The two teams met in the consolation game last year where Dodge City topped the Hawks 4-1.
The 6A championship game will begin at 2 p.m. at Wichita South.