Demons take 5th at state
Plaza earns state crown at 126
By John Zetmeir
Dodge City Daily Globe
No team did more with less at the 6A state tournament over the past weekend than the Dodge City High School wrestling team.
The Red Demons took fifth place in the final 6A team standings after five of their six wrestlers earned medals. All four teams that finished ahead of Dodge City in the final team standings had 10 or more wrestlers competing in the tournament.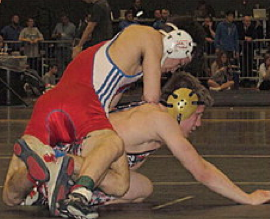 "Placing five out of six was just a testament to how tough our regional was," Dodge City head coach Lars Lueders said. "We're typically a team that places most of our kids when we go. Overall I know our team performance was disappointing but our kids wrestled a lot better and I think most of them wrestled up to their potential."
Among the five Red Demons that made it to the semifinals, juniors Devon Plaza and Tylor Garcia were the two Dodge City wrestlers who made it to the state championship match.
Plaza defeated Olathe North's Tyler Flood by a 7-2 decision in the 126-pound first place match.
"Weight has been a struggle all year for Devon and I think he grew during the season as well," Lueders said. "When he got that weigh-in on Friday and was feeling good, you could see how good Devon really is once he is feeling good and is on his A-game."
Flood, who was the No. 3 ranked wrestler in the Kansas Wrestling Coaches Association rankings, was one of three ranked wrestlers that Plaza beat to win the state title.
"They were all pretty tough kids but rankings don't really matter," Plaza said. "I was ranked No.2, then up to No. 1 then back down to No. 4 and then I ended up winning it. So anyone can be beaten at anytime."
Garcia lost a hardfought contest to Garden City's Michael Prieto in the 138-pound title match by a 1-0 decision. Despite getting second, Garcia racked up the most team points of any individual for Dodge City.
The junior pinned his first three opponents before falling to the eventual four-time state champion in the final round.
"I hope that Tylor sees that he is the real deal and if he puts in the work he could do something really special next year," Lueders said.
Despite coming up short of their ultimate goal which was a first place team finish at the state tournament, the 2015-16 season was one that Lueders believes will help the Red Demons in years to come.
"I think this season season showed me and show the wrestlers that you can't concentrate on an end goal," Lueders said. "When you concentrate on an end goal like we did, you forget about the little things that it takes to get there. I think that we are going to learn from this, I think that we are going to get better, and I really see us not overlooking people or being too confident. This could be our best season coming up."
Plaza and freshmen Joel Ostrom and Couy Weil were named to the First-Team All-Western Athletic Conference list on Tuesday.
Dodge City individual performances:
■ 106 – Joel Ostrom, 6th place, 9 team points.
■ 126- Devon Plaza, 1st place, 23 team points.
■ 132 – Clay Weil, 4th place, 14 team points.
■ 138- Tylor Garcia, 2nd place, 24 team points.
■ 145- Howard Johnson, 4th place, 14 team points.
■ 182- Cole Trent, unknown, 2 team points.