Demons struggle in opener
By John Zetmeir
Dodge City Daily Globe
Tuesday's season opener did not go as the Dodge City High School baseball team had hoped.
The Red Demon (0-2) fell to Hays in both games of Tuesday's doubleheader. The Indians forced three pitching changes in five innings on their way to a 15-2 win in game one. Hays scored five runs in the top of the second inning before adding eight more just one inning later.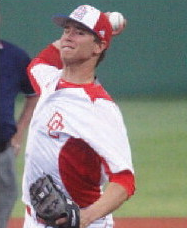 Dodge City scored a run in the bottom of the first inning of game two to jump out to an early lead.
Senior Gideon Wells drove in Eric Reid in the bottom of the third inning to spark a three run inning for Dodge City. After Hays chipped away at the Red Demons' 4-1 lead to cut it 4-3 in the top of the fifth inning, Wells had another RBI when he drove in Bryce Unruh to put Dodge City up 5-3.
Hays scored four runs by capitalizing on four Dodge City errors in the top of the six inning to seize control of game two.
The Red Demons will look to bounce back when they travel to Wichita South on Friday.
Game one
Hays – 0 5 8 2 0 X X – 15 13 1  DodgeCity-0 0 0 1 1 X X – 2 4 1
Game two
Hays-0 1 0 1 1 4 0 – 7 9 0  DodgeCity-1 0 3 0 1 0 0 – 5 8 4