Catching a break
By John Zetmeir
Dodge City Daily Globe
For a majority of the Dodge City High School baseball team's season, the Red Demons have not been able to catch a break.
Whenever they have found themselves in a tightly contested affair, fortune always seems to swing in their opponent's favor.
Going into their final regular season home game, the Red Demons suffered five home losses by three runs or less. One of which was a 3-0 loss to Wichita Heights to start the day on Tuesday.
With two outs in the bottom of the seventh inning of game two, Dodge City caught that illusive break when senior Eric Reid hit a single through the gap between second and third base that drove in junior Luke Royle for a 2-1 walkoff win.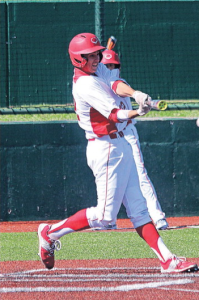 "It feels good to finally get a break, I feel like we deserve it," Reid said. "We work our butts off in practice. It hasn't shown too much this year but we're fighting and it's nice to have this momentum carrying into regionals and hopefully we can get a state berth."
Reid was 2-of-4 from the plate in game two and earned the win on the mound after one inning of relief. Senior Dayton McGroarty allowed just one run on five hits through the first six innings of game two.
It was Royle's single earlier that inning that scored Dodge City's first run of the evening. Royle advanced to second base on a fielder's choice as Kaden Riekenberg crossed home plate to tie the game at 1-1. Riekenberg was pinch running for senior Tanner Tieben who reached first base on a Heights' error.
"First off, Tanner Tieben hits a routine ground ball and busts his butt and forces the kid into a bad throw and that's how it starts," Dodge City head coach Zach Shipley said. "That's what we're talking about with these kids, if you play hard all the time. Its the little things like that."
Dodge City (7-11, 0-8) fell to the Falcons in game one 3-0 after stranding 13 base runners. Senior Bryce Unruh was tagged with the loss despite allowing just two runs on four hits in seven innings on the mound.
The Red Demons had 13 seniors play their final home game on Tuesday. Shipley is hopeful that the walk-off win in game two will provide a spark for his senior laden team as they enter the final stretch of the season.
"These guys have to be the foundation," Shipley said about the seniors. "We have days where they look really good and there are days that they don't and I've got to understand that they are two and a half months into playing my style of baseball. It's going to take awhile but I hope this snowballs and come next week, all of sudden we're clicking on all cylinders. We can be a pretty scary team."
Dodge City will finish up its regular season with a road trip to Derby on Friday. The Red Demons will begin postseason play next week.