It was a tale of two halves at Memorial Stadium on Friday night.
The Dodge City High School football team trailed the Wichita South Titans 19-0 when the whistle was blown for the halftime break.
After some words of encouragement from head coach Dave Foster in the locker room, the Red Demons scored 35 unanswered points on their way to a 35-19 win.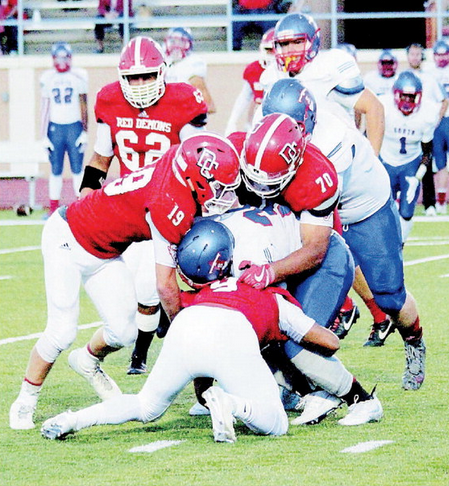 "Any time you see a group battle back, that's one thing, but this is a group of kids that has never been in that situation,' Foster said. 'All they knew was to stick together and do their jobs and that's exactly how they handled it."
A 66 yard touchdown run from junior quarterback Dawson Williams was followed by a 49 yard fumble recovery for a touchdown by senior Clay Carpenter.
Foster told his defense that they were going to need to score a touchdown. They exceeded his expectations and scored two.
After Williams scored his second touchdown of the day to give Dodge City a 21-19 lead with 11:18 to play in the game, senior Carlos Rojas returned a fumble for a touchdown on the first play of the next drive.
'We told each other that it wasn't over,' senior safety Samuel Unruh said. 'We looked at it like a 0-0 ball game and we came out here, stayed as a family and got the job done.'
Williams added a third touchdown with 6:31 to play in the game.
In the first half, the Titans capitalized on Dodge City turnovers the way Dodge City capitalized on Wichita South turnovers in the second half.
18 seconds after a 53 yard touchdown pass from Wichita South quarterback Evan Kruse to AJ Hopper, sophomore Payton Collins scooped up a Dodge City fumbled and returned it for a touchdown.
South scored a touchdown just before the halftime whistle following a third Red Demon fumble to take a 19-0 halftime lead.
Friday's win snapped a two-game skid for the Red Demons (3-2, 0-1). Both of Dodge City's losses have come against teams that are both currently 5-0 in Wichita Heights and Great Bend.
"I think playing the teams that we've been playing helps you to a certain extent," Foster said. "We've been in the last two games and thought, if we played a little more disciplined, that those are game we can win. Those types of games, even though they are losses, they can help you."
The Red Demons will play their next three games against Western Athletic Conference opponents starting next Friday at Hays.
By: John Zetmeir, Dodge City Daily Globe
WICHITA SOUTH – 0 19 0 0 – 19
DODGE CITY – 0 0 14 21 – 35
SCORING SUMMARY
2Q South, Kruse 53 pass to Hopper. Kick good. 7-0 South, Collins fumble recovery. 2-pt fail. 13-0 South, Hunt 16 run. 2-pt fail. 19-0
3Q Dodge, Williams 66 run. Kick good. 19-7 Dodge, Carpenter 49 fumble recovery. Kick good. 19-14
4Q Dodge, Williams 4 run. Kick good. 19-21 Dodge, Rojas 10 fumble recovery. Kick good. 19-28 Dodge, Williams 2 run. Kick good. 19-35