After missing the previous four games, senior Brianna Bradshaw showed why she is a crucial part to the Dodge City High School girl's basketball team in the Red Demons 45-39 win over McPherson.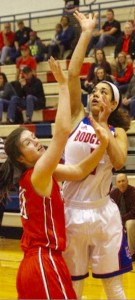 Bradshaw hit a 3-pointer to give Dodge City a 42-39 with 1:25 to play in the game. On the Bullpups ensuing possession, Bradshaw tipped the ball off of a McPherson player to give the Red Demons possession with just under a minute to play in the game.
"She is a great leader for us," head coach Kelley Snodgrass said. "She's a floor general and a huge spark. We really fed off of her but a lot of people stepped up. We hit big shots, we had great team basketball but it's good to have her back in the rotation."
Bradshaw scored five points, grabbed two rebounds and had two steals.
"It felt great," Bradshaw said. "I was just really looking forward to this game hoping that I could play as much as I could."
Dodge City (9-5, 3-0) trailed McPherson (12-2) 28-18 with 2:28 left in the third quarter. From that point on, the Red Demons outscored the Bullpups 27-11 to end the game. In the fourth quarter, Dodge City outscored McPherson 21-9. Snodgrass thought it was the best quarter that her team has played all season.
"We really moved the ball on offense," Snodgrass said. "We shared the ball, found the open person and they knocked down the big shots."
The Red Demons will have a quick turnaround as they host Garden City on Monday.
"Hopefully it adds a lot of momentum going into the Garden game," Bradshaw said. "That's a big game."
MCPHERSON 75, DODGE CITY BOYS 69.
The Dodge City High School boys basketball team was just minutes away from handing the McPherson Bullpups their first loss against a Kansas team this season.
In the end, the Red Demons' (5-9) herculean effort came up just short, falling 75-69 in double-overtime.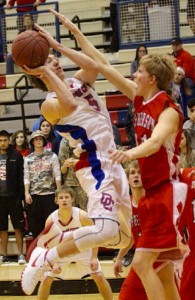 After leading the Bullpups (13-1) by 11 points with 7:10 to go in the game, McPherson ended regulation on a 22-11.
Foul trouble hindered the Red Demons down the stretch as they were without two of their starters for the final overtime.
"I wish we could have gotten it in the first overtime," Dodge City head coach Dennis Hamilton said. "I thought that was our best opportunity. Right now I just feel terrible for our kids because they played hard enough to win."
McPherson's Drew Pyle proved to be the Red Demons kryptonite the entire evening. Pyle scored a game-high 27 points which included 12 points combined in the two overtime periods.
Senior Dayton McGroarty poured in 20 points to lead the Red Demons. Senior forward Noah Williams scored 12 points and finished with a season-high 14 rebounds.
Dodge City outrebounded the Bullpups 37 to 23 but it was the Red Demons 24 turnovers to McPherson's 13 that proved costly.
"When you turn it over 24 times to their 13 and you take a team of this caliber to two overtimes, you probably shouldn't have done that," Hamilton said. "But our kids continued to compete and played hard."
The Red Demons will host their Western Athletic Conference rivals, Garden City on Monday. The girls are scheduled to tipoff at 6 p.m. with the boys game following.
John Zetmeir – Dodge City Daily Globe