After starting the season with a tough loss to Junction City on Saturday, the Dodge City High School boys basketball team will looks to win their first game of the season when they travel to Woodward, Oklahoma on Thursday.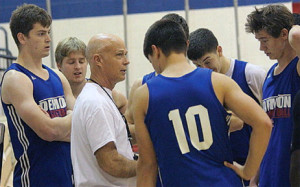 With both the Red Demons (0-1) and Woodward (0-2) looking to win their first game of the season, Dodge City head coach Dennis Hamilton said that Thursdays game will be a matchup between two hungry teams.
"We've got a competitive, cohesive group," Hamilton said on Wednesday. "But getting it done in the games is as important as doing it in practice. We're a pretty good practicing team right now but we just want to jump that hurdle called winning a basketball game."
In Dodge City's 52-44 loss to Junction City, the Red Demons struggled to score. Dodge City made 16-of-48 shots from the floor and capitalized on just 9-of-17 trips to the free throw line. Senior Dayton McGroarty finished with a team-high 16 points.
"We came out a little bit rusty, a little bit slower than we should've," McGroarty said. "We all struggled, we turned the ball over too many times but we got our feet and we're ready to go now."
Hamilton emphasized Woodward's size when talking about the Boomers. Senior Noah Williams, the Red Demons' 6-foot-6 center, will not matchup against many players taller than him this season. He will on Thursday when he will have to defend Woodward's 6-foot-8 center.
"It really depends," Williams said. "Sometimes it doesn't matter if they're tall and sometimes it makes a lot of difference."
Prior to the boys game, the Dodge City girls basketball team will look for a 2-0 start to their season with a win against Woodward. Last Saturday, the Lady Demons beat Junction City 67-35. Senior Jessica Harshberger led last year's WAC champions with 21 points. Brianna and Tia Bradshaw also added 12 points each for the Red Demons.
The girls are scheduled to tipoff at 6 p.m. on Thursday night with the boys following them at 7:30 p.m.
By John Zetmeir
Dodge City Daily Globe