Demons host rival Buffs in quarterfinals
By: John Zetmeir
On the way to the 6A state semifinals in 2015, the Dodge City High School boys soccer team met three teams in the playoffs that they had not seen during the regular season.
If the Red Demons hope to return to the state semifinals this season, they will have to go through a familiar foe. Dodge City (18-0) will host Garden City (12-6) on Tuesday night in the quarterfinal round.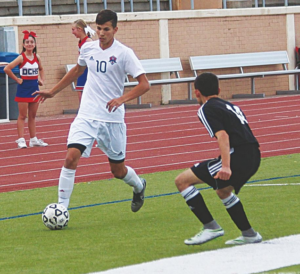 Despite having beaten the Buffaloes twice this year, the Red Demons know the challenge that comes with facing a team three times in one season.
"I've heard from a lot of people that you can't beat a team three times in a row, that we might not make it to state but I think that the team is confident and we want to show our fans and everyone else that we can," Dodge City senior goalkeeper Jorge Ortiz said. "It's Garden City. It's our rivals, so we want to beat them."
In the first meeting with Garden City, the Red Demons found a few holes in the Buffaloes' defense on their way to a 2-0 win. When the Dodge City boys traveled to Garden City, they were able to grind out a 2-1 win.
The Red Demon's two wins over Garden City came during a four-game losing streak for the Buffaloes. They responded from the poor stretch by winning seven of their last eight games heading into the state quarterfinal matchup.
Knowing how the Buffaloes have been playing over the last month, Dodge City head coach Saul Hernandez is expecting to see the best version of the Buffaloes that the Red Demons have seen this season.
"That's what we expect and I'm sure they expect a better version of us because as the season goes along, the teams that are improving are the ones that are still standing," Hernandez said. "We won't be overconfident."
The state quarterfinal is scheduled to kickoff at 6 p.m. at Memorial Stadium.