Demons host Pioneers in regional
WAC champs begin postseason play against Wichita West
By John Zetmeir
Dodge City Daily Globe
Going into the final week of the regular season, Dodge City High School girls soccer coach Saul Hernandez wanted his team to do two things.
No. 1 secure the Western Athletic Conference title No. 2 carry momentum into the postseason They did just that.
Last week Dodge City (11-4-1, 7-1) traveled to Garden City and Liberal. A 1-0 win at Garden City on Monday followed by a 2-1 victory over the Redskins cemented the Red De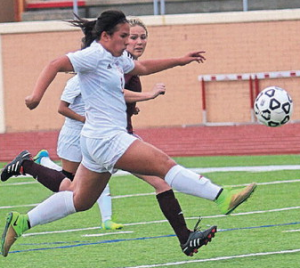 mons outright WAC title. On Tuesday, they will host the Wichita West Pioneers in their final home game of the season.
"It's a little more nervy but the last two games the girls have played really well,"Hernandez said."That's the kind of momentum that I want to have going into the regionals. Hopefully they keep that same intensity in the next game and go as far as we can."
While it may be easy to overlook a team that has not won a game since April 7, Hernandez wants his team to focus on Tuesday's game so that they can earn a trip to Topeka for the regional championship game.
"If we do our job, concentrate and we don't go in too overconfident, I think we will take care of business in the last game of the season at home," Hernandez said.
Coincidentally, it was that same date that began the Red Demons' run of good form. Dodge City lost their last game at home on April 7 and since that date, the Red Demons are 8-1-1. The biggest difference, Hernandez said, is the team's cohesion.
"At the beginning of the season,there was little cliques and now its more of a whole team," Hernandez said. "Players aren't playing for themselves, they are playing for the team."
Tuesday's regional game will begin at 6p.m. at Memorial Stadium.