Demons head to Topeka for playoff match-up with Washburn Rural
By: John Zetmeir
Relative to their strength of schedule, both the Dodge City High School football team and the Washburn Rural Blues have had similar seasons.
The Red Demons (5-3) have suffered three losses to teams that have a combined record of 22-2. The three teams that have beaten Washburn Rural (5-3), are a combined 21-3 this season. Other than their 28-6 loss to Manhattan, the Blues' other two losses are by a total of 8 points.
"We noticed that their losses were all to quality opponents, no one has really snuck up on them," Dodge City head coach Dave Foster said. "As soon as we glanced at film, we were impressed by them. We feel like they are a quality opponent that is well coached and has a lot of good athletes on the field."
The Red Demons will have to make the 275-mile trip as the No. 10 seed in the 6A west bracket. The line that separates the east and west districts was drawn through Lawrence. While the trip may seem like a long one for Dodge City, it's something that they are looking forward.
This is the first year of the new playoff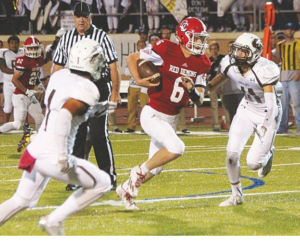 format in 5A and 6A football.
 "It's not a team that we've already played and it could've worked out that way," Foster said. "We really didn't want a rematch with someone that we've already played so we're excited for the trip. We travel, it's what we do. For a Topeka school having to come out here is a whole different deal than us going there. We savor the opportunity to take a longer field trip."
For Washburn Rural, senior running back Hunter Browning has been the key to the Blue's offense.
Browning has 635 yards on 107 carries. Defensively, Washburn Rural has been stingy this season, allowing less than 15 points per game.
In his first year as the Red Demons' quarterback, junior Dawson Williams has thrived in Dodge City's read option offense.
Last week in the Red Demons' 70-34 win, Williams set the single-game rushing yards record with 382 yards. He also scored five touchdowns to bring his season total up to 23. With 1,516 yards on 181 carries heading into the playoffs, Williams is 212 yards and three touchdowns away from tying the school's single-season rushing records.
"He's a tough kid," Foster said. "He bounces back up, he's resilient but not a lot of people have gotten solid shots on him this year. There are a lot of times when it's not a solid shot and if can get him to the second level, his opportunity to score is a very high percentage."
Aiding in Williams' success has been a veteran offensive line and senior running back Tylor Garcia who has 772 yards on 135 carries this season.
Kickoff is scheduled for 7 p.m. at Washburn Rural.