Coming into the season, the Dodge City High School boys soccer team knew that most of their opponents were going to play a defensive style and try to score on the counter attack.
On Tuesday at Memorial Stadium, Hutchinson's defense gave Dodge City fits for most of the evening. The Red Demons scored their first goal of the game five minutes into the second half. The goal opened the game up for Dodge City who went on to win 4-0 to earn their ninth straight win to start the season.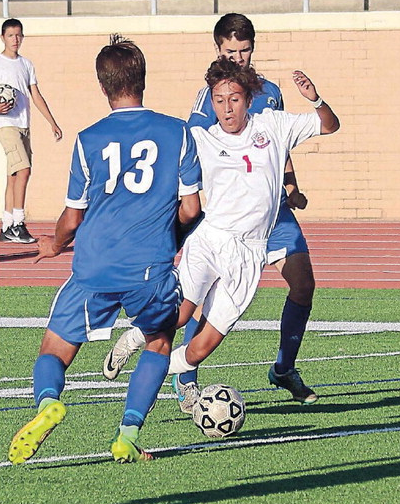 "We had enough opportunities in the first half, we just weren't putting them away," Dodge City head coach Saul Hernandez said. "Until we got that first goal, it seemed like (Hutchinson) was just going to play defensively and hit us on the counter. That's what most team's are going to do because of the quality of team we have."
It was junior Francisco Cayetano that broke the deadlock with a curling goal from outside of the penalty box that beat Hutchinson's goalkeeper Francisco Villanueva.
20 minutes later, Cayetano scored his second goal of the game from outside of the box again.
"During halftime, coach (Hernandez) told us to come out with more intensity," Cayetano said. "We were a little bit flat footed and reacting to the ball. He told us to shoot from outside of the (penalty box) so that's pretty much what I did."
Senior Rodrigo Angulo gave Dodge City a 3-0 lead 34 seconds after Cayetano's second goal. Junior Mario Martinez added one more with 25.8 seconds left in the game.
The Red Demons (9-0, 4-0) will begin the second round of Western Athletic Conference play when they travel to Garden City on Thursday. Dodge City bested the Buffaloes 2-0 at Memorial Stadium last week.
"(Garden City) is a pretty good team who plays defensively as well," Cayetano said. "It'll be a tough game again."
By John Zetmeir, Dodge City Daily Globe